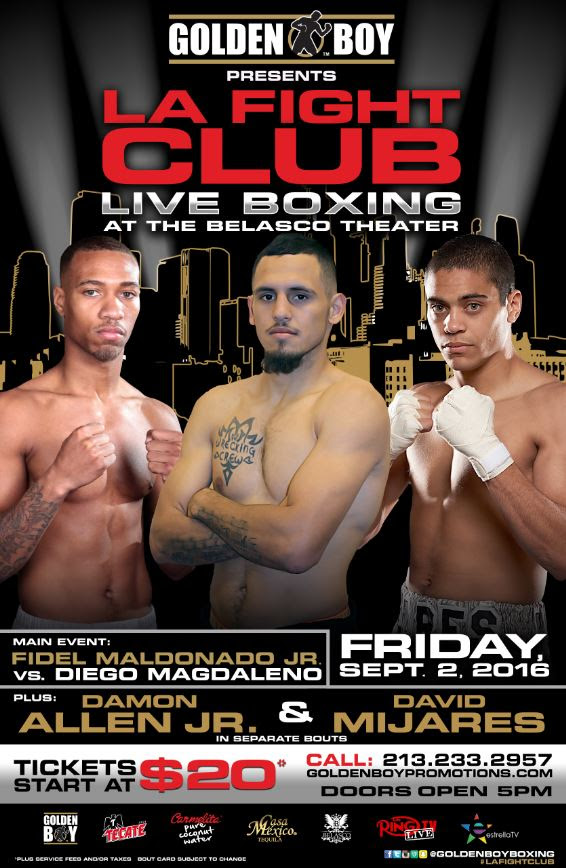 Albuquerque's Fidel "The Atrisco Kid" Maldonado, Jr. (22-3-1, 19 KOs) will make his LA Fight Club debut on October 7 against the exciting Diego "Mr. Superb" Magdaleno (28-2, 12 KOs) of Las Vegas.
The 10-round lightweight event will serve as the main event on the Estrella TV, Boxeo Estelar broadcast which will also feature Philadelphia's Damon "No Smilin" Allen (10-0, 4 KOs) in an eight-round lightweight co-main event and Maricela Cornejo (4-2, 2 KOs) of Los Angeles participating in a six-round super middleweight televised opener.
Featured on the non-televised broadcast streaming on RingTVLive.com, Cancun, QuintaRoo, Mexico's rising star Joseph "Diamante" Aguirre (14-0, 8 KOs) will fight in Los Angeles for the first time in a scheduled six-round lightweight fight while Santa Monica's David Mijares (3-0, 2 KOs) will fight in a four-round super lightweight event. Opening up the night Marvin Cabrera of Mexico City, Mexico will make his pro debut in a four-round middleweight bout.
"The fans will not go home disappointed with this edition of LA FIGHT CLUB, as we see top prospects in the sport continue to make a name for themselves at the Belasco and beyond," said Oscar De La Hoya, Chairman and CEO of Golden Boy Promotions. "At Golden Boy Promotions, we are dedicated to giving the fans what they want, and our continuous record of sold out LA FIGHT CLUB shows demonstratethe fans are hungry for more fights."
Tickets for LA FIGHT CLUB starting at only $20 with Flex Passes for multiple fight packages, Group Tickets and Knockout Experience upgrade are available for purchase now at www.goldenboypromotions.com, the Golden Boy Promotions Facebook page, by calling 213-233-2957 or by emailing LAFightClub@goldenboypromotions.com. Mark your calendars and purchase tickets in advance before they sell out for the remaining dates taking place October 7, November 4 and December 2.
Albuquerque, N.M. southpaw standout Fidel "The Atrisco Kid" Maldonado Jr. is one of Golden Boy Promotion's most aggressive fighters on the roster. At the height of Maldonado's amateur career, "The Atrisco Kid" was ranked number two in the U.S. with an eye-catching record of 118-12. After going professional in 2009, Maldonado snatched up the WBC Youth Silver lightweight title from Eric Cruz in 2011 adding to his impressive boxing resume which also includes a fight for the WBC Continental Americas Super Lightweight Title. Maldonado has stayed active in 2016, defeating the experienced Michael Clark via first-round technical knockout in January, taking a draw against Art Hovhannisyan on May 20 and most recently obtained a technical knockout victory against Gerardo Cuevas on July 9. Now, Maldonado is ready to create a new chapter as he faces the equally exciting Diego Magdaleno on October 7.
Former world title challenger, Diego "Mr.Superb" Magdaleno is known for his exciting boxing style. A professional fighters since 2007, Magdaleno is ready to restart his career after suffering his second career loss to WBO Lightweight World Champion Terry Flanagan this past October 2015. Previously, the 29 year old was the owner of the WBO International Lightweight Title, a champion he won in 2015 by defeating Jose A. Gonzalez via seventh round technical knockout. Now ready to step back in the limelight, Magdaleno will be looking for a stellar victory against the experienced Fidel Maldonado Jr.
A professional since 2013, undefeated lightweight Damon "No Smilin" Allen, has had victories over tough opposition in Hector Marengo, Tony "Sugar Boy" Walker and Travis "El Animal" Thompson. The 24-year-old Philadelphian stepped through the ropes twice in 2015, stopping Luis "Yeye" Rodriguez in three rounds at home in Philly before making his Los Angeles debut in November with a decision victory over Oscar Santana. Since then Allen, defeated Daniel Perales on March 3, 2016 via unanimous decision and was las seen in Hollywood, winning a technical knockout victory over Daniel Montoya in on May 25.
29 year old professional boxer, actress and model, Maricela Cornejo hails from Grandview, Washington began boxing at the famed Wild Card Gym in December 2010. Quickly falling in love with the sport, Cornejo vigorously trained for 11 months before participating in her first amateur fight in Las Vegas. In August 2012, Cornejo took the leap into the professional ranks by defeating Mia Henderson via majority decision. Since then, she has mainted busy and was most recently seen in the ring against Latashia Burton in August 2015 and Kali Reis in April 2016.
Joseph "Diamante" Aguirre of Cancun, Quintana Roo, Mexico, has defeated every opponent he has ever faced and hopes to add his upcoming opponent to his list of victories as he fights for the first time in Los Angeles. With a recent victories in 2016 against Oscar Arjona via first round knockout in March and a fifth round technical knockout victory against Rony Oscar Alvarado on May 20 in his U.S. debut, and a unanimous decision victory against Ricardo Urbina on July 23. Aguirre will be looking to impress in his Los Angeles debut, in a scheduled lightweight bout in the famed Belasco Theater in Downtown Los Angeles.
Some fighters are made in the gym. The 20-year old David Mijares was seemingly born into the sport. As Mijares' father worked with legendary musician Bob Dylan, his pregnant mother visited the boxing gym and her water broke. By the age of 12, he began competing, going on to compile a 57-12 record as an amateur. Among his accomplishments were three National PAL Championships, a 2015 Golden Gloves title, and a Bronze medal in the 2015 USA National Championships. Mijares made his professional debut with a spectacular win on the Canelo-Khan undercard on May 7 defeating Omar Reyes via unanimous decision. On June 11 he defeating Cory Vom Baur with a technical knockout and was last seen on the August 19 edition of LA FIGHT CLUB, defeating Jorelle Sparenberg via second round knockout.