Fighter Profile, Bio and Career Record for Erislandy Lara – 17 (11) – 1 -1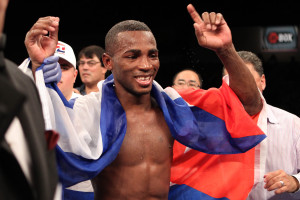 Erislandy Lara is currently one of the sport's fastest rising stars.  The decorated former Cuban amateur star is currently ranked in the top ten in the junior middleweight division and is on the road to fighting for a world title in the next year, if somebody will ever step up and face the guy.
Erislandy Lara's Amateur Career in Cuba & Defection

Lara followed in the long line of Cuban amateur stand outs. From 2000 to 2007, Lara collected many Cuban amateur titles.  His most notable win as an amateur was a 2007 decision victory (9-4) over current top prospect Demetrius Andrade at the 1st Pan Am Games Qualifier.
Lara was favored to be on the 2008 Cuban Olympic team. However, he unsuccessfully attempted to defect in July 2007 during the Pan Am Games.  As punishment for his attempted defection Lara was banned from boxing indefinitely.  In 2008, he was able to escape Cuba on a speed boat to Mexico.
Early Professional Career
Lara turned pro on July 4, 2008 with a four round decision victory over Ivan Maslov in Turkey.  A year later he faced division gatekeeper Darnell Boone and won a six round unanimous decision.  In August 2010, he headlined his first ESPN2 Friday Night Fights card and destroyed veteran Willie Lee in one round.
Moving Up the Junior Middleweight Ladder
Lara headlined his second ESPN2 Friday Night Fights card in March 2011 in Las Vegas against Carlos Molina. Going into this fight, many thought that this would be another easy stepping stone victory for Lara.  However, Molina proved to be much more skillful than originally thought and gave Lara everything he could handle.  In the end the fight has ruled a majority draw.  It appeared that Lara took a backwards step in his career with this lackluster performance.
But in fact this fight had the opposite affect on his career. For one thing, Molina has continued to prove himself as one of the best junior middleweights in the world, so that effort was no fluke on his part. In addition, since Lara looked so vulnerable against Molina he was an attractive opponent for Paul Williams, who was looking for an easier fight following his one punch knockout loss a year earlier to Sergio Martinez. The fight against Williams took place in Atlantic City in July 2011. Lara landed his left hand at will during the fight and was absolutely dominant.
When the bell for the 12th round rang Lara seemed to be on his way to the biggest win of his young career, but the decision inexplicably went to Williams. The decision was so bad that the three judges who scored the fight were almost immediately suspended by the state of New Jersey.  Further, this fight in the eyes of boxing fans across the world is unanimously recognized as a victory for Lara.
Lara has had two fights since the Williams bout.  In April 2012, he impressively knocked out former title challenger Ronald Hearns in one round and in June he defeated long time contender Freddy Hernandez by unanimous decision.
Future for Erislandy Lara
Lara has positioned himself as one of, or perhaps the very best, junior middleweight boxers in the world. With the Junior Middleweight division being as deep as it is, Lara will certainly be in many big fights in the years to come. Somebody has to step up and face the guy eventually, he can't be ignored by the titleholders forever.