Giovani Segura Fighter Profile, Career Record and Bio (27-1-1, 23 KO)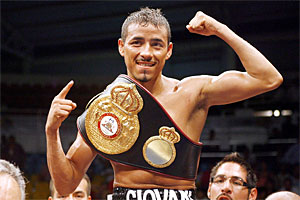 Born April 1, 1982, Giovani "El Guerrero Azteca" Segura is a Mexican professional boxer in the Light Flyweight Division.  He is currently the WBA and WBO Light Flyweight Champion and is ranked among the top ten pound for pound boxers in the world by ProBoxing-Fans.com.
Amateur Career
Giovani began boxing at the age of 15 years old and holds an amateur record of 38-4.  By his own admission, Giovani says that most of his wins in the amateurs came by way of knockouts and that his losses were because of speed.  He earned 2 amateur titles, one in California and the other in Arizona.
Professional Career
Giovani Segura made his professional debut on March 28, 2003. After drawing in his second professional fight, Segura went on to knock out 15 of his next 18 opponents, winning several minor titles and earning a WBA world title fight against Cesar Canchila.  He ended up losing to Canchila via unanimous decision, the first loss of his career. However,  Segura came back strong in the rematch, knocking out Canchila in the 4th round to become the WBA Junior Flyweight Champion.
Fights with Calderon
After successfully defending his WBA Jr. Flyweight title 3 times, Segura played with the idea of moving up in weight to Flyweight, even scheduling and defeating Ronald Ramos at Flyweight.  By defeating Ramos, Segura got the opportunity to face Jr. Flyweight kingpin Ivan Calderon and a chance to unify the division.  By applying constant pressure from the beginning of the fight, Segura managed to stop Calderon in the 8th round becoming the first man to defeat and dethrone Calderon.  In their rematch, Segura again proved his dominance over the once great champ, defeating him this time in 3 rounds, after Calderon was unable to continue due to constant pressure and relentless body punching.
Future
While Segura has climbed and conquered the mountain at Jr. Flyweight, there is no doubt that greater things await for him at flyweight and maybe Jr. bantamweight.  Segura has been carefully moving to Flyweight, having already been successful in both fights he's had there.  According to Segura, the fight with Calderon was his last at Jr. Flyweight and is about to move permanently to Flyweight where a meeting with fellow pound for pounder Pongsaklek Wonjongkam is definitely a possibility.  Whether he keeps moving up in weight, or stays put, Segura's relentless pressure and action packed fighting style makes him a threat to anyone in nearby divisions. There is no doubt that when it comes to Giovani Segura, the best has yet to come.