Jean Pascal Fighter Bio, Record & History:
Haitian born Jean Pascal is one of the most talented fighters in the light heavyweight division. At the age of 4 his mother moved Jean and his older brother from their native Haiti seeking a better life. They settled in Montreal, Quebec Canada where at the age of 13, Pascal discovered boxing. Trainer Sylvain Gagnon, saw a natural talent in him and began training him in 1996.
Early Professional Career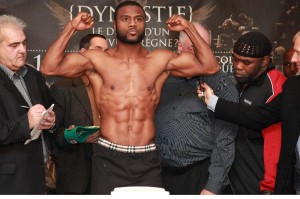 On February 3rd, 2005 Pascal made his professional debut at super middleweight winning by second round TKO. After only 9 fights (all wins), he fought for the Canada National Super Middleweight title against Martin Desjardins. He was victorious with a 7th round KO to win his first belt. Although it was not considered  a major championship, Pascal's win let observers know that he was a fighter to be reckoned with.
His first shot at a major title was for the vacant WBC Super Middleweight title against Carl "The Cobra" Froch on December 6th, 2008.  Pascal lost a close to decision to the undefeated Froch but gained the admiration of many fans in the process.
Move to Light Heavyweight & Winning the Title
Soon after the loss to Froch, Pascal decided to move up to the Light Heavyweight division. On June 19th, 2009 he fought Adrian Diaconu for Diaconu's WBC Light Heavyweight title. This time Jean won by a decision and became a force to be reckoned with in the division.
After defending the championship once, Pascal had a rematch with Diaconu and again won via decision. Following this 2nd title defense his promotion company laid out his next 2 fights. First up was the undefeated Chad Dawson, the recognized champion of the division. After battling for 10+ rounds the fight was stopped due to an accidental headbutt that opened a gash above Dawson's eye. Pascal was ahead on the scorecards so he was awarded the victory and the IBO championship. He took Dawson out of his game with his speed and by beating him to the punch.
Two Fights Against Bernard Hopkins
The next challenge for Pascal would be the biggest of his career. He was matched up against 45 year old living legend Bernard Hopkins. Their fight took place December 18th, 2010 and turned out to be a spirited contest. It ended in a controversial Majority Draw with both fighters claiming victory. Most observers felt that Hopkins deserved the win, however Pascal did score a surprising two knockdowns against Hopkins.
Their rematch was held May 21st, 2011 in Montreal. This time, the much older Hopkins seemed to get the better of Pascal. He maintained a higher work rate than usual and was the aggressor of the bout, staggering Pascal at times and dictating the action. The fight concluded with the judges scoring the bout, 112-116, 114-115, and 113-115 in favor of Hopkins, who became the oldest champion in the history of boxing with the victory.
What's Next for Jean Pascal
Despite his loss to Hopkins, Jean Pascal is still a very talented, young fighter. He has several options on the table such as rematches with Chad Dawson and Carl Froch. With a current record of 26-2, he would be a worthy challenger for any fighter that is willing to step in the ring with him. He will continue to be a force in the light heavyweight division.