Michael Katsidis Biography, Record and Profile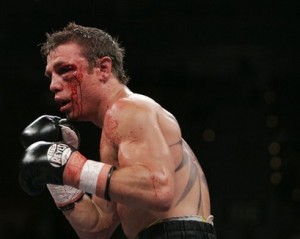 Michael Katsidis is one of the most exciting fighters in boxing today. There is never a dull moment in this Australian-fighter-of-Greek-descent's action packed fights. Katsidis, known for his take no prisoners fighting style and his Greek Spartan helmet that he wears when entering the ring, is one of the top lightweights in the world. As he continually faces tough competition, he hopes that his aggressiveness and determination will take him all the way to the top of the division.
Style: Katsidis is an aggressive fighter who relentlessly pursues his opponents, packs a heavy punch and is always on a mission to seek and destroy. In fact, his relentless style (and fierce battles) has given him comparisons to the likes of Arturo Gatti. By the end of Katsidis' fights, many of which are intense, action packed and knockdown filled, Katsidis is usually bloody, bruised and cut, yet victorious.
Amateur Career
As an amateur, Katsidis earned 75 wins and represented the Australian Olympic team in the lightweight division in the 2000 Olympics, which were held in Katsidis' home country of Australia. In these Olympic games, he was defeated in the second round by Nurzhan Karimzhanov of Kazakhstan.
Early Professional Career
Katsidis wasted no time getting himself established as a professional fighter. His crowd-pleasing style brought him early success and in only his second professional fight, he defeated James Swan for the Australian Lightweight Title. From there, he continued earning 19 dominant victories and three lower level titles. Katsidis was off to a great start, but he had bigger and better things on the horizon.
WBO Interim Lightweight Battle
Katsidis has survived many bloody fights and in perhaps his bloodiest, he won the interim WBO Title against Graham Earl in London. This fight featured Earl being knocked down 3 times in the first two rounds, Katsidis being knocked down once, and then the fight being stopped in the 5th round as Katsidis' onslaught proved to be unstoppable.
His first true test was against Czar Amonsot in 2007 on the undercard of the Bernard Hopkins/Winky Wright fight.  In his first fight in the United States and on HBO, Katsidis made his presence known in an intense, action packed fight. Katsidis won this bloody battle by Unanimous decision, successfully defending his WBO title, and establishing his presence to boxing fans everywhere.
Consecutive Losses
Katsidis established himself early on in Australia and survived a few bloody battles for the WBO title, but had yet to suffer any losses. In 2008, Katsidis went up against the veteran Cuban southpaw, Joel Casamayor. In this battle, Casamayor was the aggressor early on, but the dogged determination, persistence and aggressiveness of Katsidis was evident in the middle of the fight. Eventually, Casamayor's timing and strong punching became too much for the severely bruised and beaten Katsidis. The fight was stopped; Katsidis suffered his first loss, and lost his interim WBO belt in the process. It appeared that Katsidis could and perhaps should have won the fight, but was too aggressive and left himself unprotected.
In September of 2008, Katsidis got the opportunity to fight the man in which he was supposed to fight to begin with; Juan Diaz. In this fight for the IBO lightweight title, Diaz was the more aggressive and determined fighter and with a relentless pursuit and series of well timed attacks, earned his way to a split decision, handling Katsidis the second loss of his career and second straight.
Return to his Winning Ways
After his 2 straight losses, Katsidis was able to notch some solid wins against Angel Hugo Ramirez and Jesus Chavez. Katsidis looked particularly aggressive in these fights, knocking down Ramirez 4 times en route to a unanimous decision victory and forcing Chavez to retire in his corner before the start of the eight round.
Katsidis moved one step closer to a WBO World Title shot when he faced Vicente Escobedo for the WBO interim title and a chance to face the title holder. In another intense battle, Katsidis emerged victorious by a controversial (and bloody) split decision, earning him the interim WBO title and a shot at the world title.
From here, things got complicated. Juan Manuel Marquez (the WBO champion) had no desire to defend his title against Katsidis, so instead Katsidis planned to take a fight against IBF Champion Robert Guerrerro. However, Guerrero was forced to withdraw due to family matters. During all these deliberations for Katsidis to fight Marquez, Guerrero, and possibly a rematch against Diaz, Kevin Mitchell earned himself a mandatory shot against Katsidis. Katsidis blew the undefeated prospect out, winning in the third round.
World Title Shot and HBO Fight of the Year
In November of  2010  (barely a month after the death of Katsidis' brother) Marquez attempted to defend his WBO, WBA and The Ring titles against Katsidis. In this all out war, Marquez, who was knocked down in the 3rd round, went on to stop Katsidis in the 9th round and this action packed fight won the 2010 Fight of the Year. Katsidis put up a valiant effort despite the very recent family tragedy of his brother's death being fresh in his mind.
What's Next
In April of this year, Katsidis is scheduled to take on Robert Guerrero, a dynamic, talented young fighter against whom he had been previously scheduled to fight.
Katsidis will continue to be a force in the lightweight division. He survived 9 years of grueling professional fights, finally earned a world title shot and proved that he belongs right up there with the top fighters in the division. Even if he never makes it to the number 1 position, his aggressiveness, persistence, and will to win will make him a crowd pleaser and a fighter to watch for years to come.