Biography, Record and Profile for Sebastian Sylvester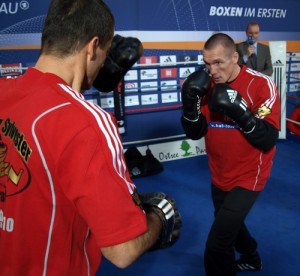 Sebastian "The Hurricane" Sylvester is a German boxer looking to continue to make an impact on the middleweight division. He is the current IBF Middleweight Champion of the world; a title he won by defeating Giovanni Lorenzo in 2009.  In his 9-year professional career, Sylvester has never ventured outside of Germany to fight.
Sylvester is a methodical fighter; the kind of fighter who always seems to go into each fight with a specific game plan. He also seems to know when to turn up the aggression, intensity, and because of this style against the better quality fighters he has been facing lately, he has earned himself several tough decisions.
Early Career
Interestingly enough, Sylvester lost his professional debut back in May of 2002 by being knocked out in the 1st round! In the remainder of his early career, he strung together some solid wins, all-leading up to his 2006 fight against Franck Mezaache, in which he won the vacant WBA Inter Continental title. This increased Sylvester's recognition and it allowed him to vie for the European title, the WBA title, and eventually the IBF title, which is the one he still claims.
Championship win and loss to Sturm
In April of 2008, Sylvester defeated the veteran Javier Castillejo to not only win the EBU European Middleweight title, but to also earn himself a WBA title shot. In his shot for the title, he lost a 12 round unanimous decision to Felix Sturm, but has since rebounded nicely, winning the IBF title and has not suffered a loss since the Sturm fight.
IBF win and defenses
In September of 2009, Sylvester won a tough split decision against Giovanni Lorenzo to earn the vacant IBF Middleweight title. Sylvester fought a tough, tactically sound fight to win the title and secure himself as one of the top middleweights in boxing.
He has since defended this title against Billy Lyell (who upset John Duddy in 2009), Roman Karmazin in a tough draw, and recently Mahir Oral. His defenses, for the most part, have been very closely contested bouts, but he looks to retain this title and hopefully vie for other titles in the future as well.
What's Next
Sylvester is coming off of the fight against Oral; a fight in which Sylvester was explosive, aggressive, and fought what some consider to be his best fight ever. Sylvester is scheduled to take on Mehdi Bouadla on January 22nd in what will be his 4th defense of the IBF belt. This fight will take place in Sylvester's home country of Germany. The momentum will definitely be in his favor in this upcoming defense. Following that, a mandatory defense will be coming due against Daniel Geale.