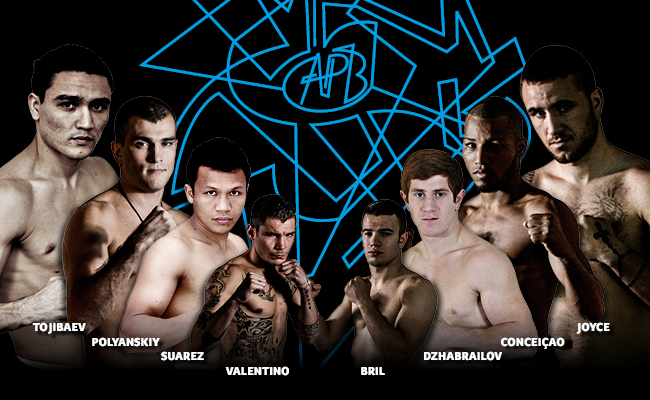 After the initial Pre-Ranking competitions, the first cycle of AIBA Pro Boxing (APB) matches will begin tomorrow, May 30, starting from holding its 60kg matches in Tashkent, Uzbekistan.
The launch of APB Cycle I Round 1 will be a key moment for the sport of boxing bringing together the world's top 90 boxers from all four corners of the world to compete in 10 weight categories which represents the pinnacle program at all levels of the sport of boxing.
"The launch of the APB Cycle I is a thrilling moment for the world boxing movement and the whole of sports worldwide. We are creating a truly global revolution in boxing and are providing to the world's best boxers stable and transparent professional careers. This is a historical moment in many aspects as Cycle is the beginning of great boxing showcases with the skill and power of AIBA boxers with professional competition styles for the first time ever in global boxing realm", said the AIBA President Dr Ching Kuo-Wu.
APB Cycle I Matches will consist of Round 1, Round 2 (Olympic Qualification Round) and World Title Matches. All matches represent 8 rounds of competitions which will take place until mid-September.
APB Cycle I Matches will be available live on APB YouTube channel.
ashkent, Uzbekistan, will host the AIBA Pro Boxing Lightweight Cycle I Round 1 on 30 May according to the match schedule below.
LIGHT 60 KG – SATURDAY, 30 MAY (20:00 GMT+5)
Location: Tashkent – Venue: O'zbekiston Sport Majmuasi
AIBA Pro Boxing (APB) begins Cycle I Round 1 on Saturday night in Tashkent, Uzbekistan, as the Lightweight (60 kg) division compete in four matches.
An excellent main event will delight the audience inside the O'zbekiston Sport Majmuasi, with home star Hurshid Tojibaev set for a pivotal match with Ireland's David Oliver Joyce.
The number one ranked Tojibaev missed out on the opportunity to become APB Champion when he lost to Berik Abdrakhmanov in their Inaugural Title Match, so the 3-1 Uzbek star is aiming for a swift return to winning ways.
Fourth ranked Joyce has a 2-2 record in this competition, and the Irish star is full of confidence despite his opponent enjoying home advantage in this fixture.
Both boxers possess excellent stamina which makes this matchup a very even contest, although the power advantage perhaps belongs to the Uzbek fighter.
Joyce is always composed in the ring however, and has the ability to successfully change his tactics during different stages of a fight, which is an invaluable attribute in the longer round format of APB.
A key aspect to consider is that neither man dominated the majority of their APB Pre-Ranking and Ranking Phase matches.
Tojibaev failed to win on all three scorecards against either Charly Suarez or Robson Conceicao, while Joyce has been on the losing end of tight decisions twice in his APB career.
With such a narrow battle in store, whoever can unlock the superior desire and skill to succeed will move onwards to Cycle I Round 2, where they will meet the winner of Dmitry Polyanskiy vs Robson Conceicao, who also clash in Uzbekistan.
Number two ranked Polyanskiy has an outstanding 3-1 APB record, while the third ranked Conceicao achieved a strong victory in his last match.
Elsewhere in Tashkent, 1-3 Charly Suarez meets debutant Magomedrashid Dzhabrailov, and five-time AIBA World Championships medalist Domenico Valentino looks for his second consecutive triumph over Germany's Artur Bril.
Match schedule:
20:00: Artur BRIL (GER) vs Domenico VALENTINO (ITA)
20:30: Charly SUAREZ (PHI) vs Magomedrashid DZHABRAILOV (RUS)
21:00: Robson DONATO (BRA) vs Dmitry POLYANSKIY (RUS)
21:30: Hurshid TOJIBAEV (UZB) vs David JOYCE (IRL)
Full Opening Locations & Match-ups
Round 1 of Cycle I will consist of 40 matches in 10 weight categories. Across two nights on June 6-7, Guyiang in China will host four matches in the Light Flyweight (49 kg) division such as Wu Zhonglin (CHI) vs Carlos Quipo (ECU), Birzhan Zhakypov (KAZ) vs Patrick Lourenco (BRA), Leandro Blanc (ARG) vs Fazil Kaggwa (UGA) and David Ayrapetyan (RUS) vs Ariunbold Ganselem (MGL).
The Flyweight (52 kg) division will meet on June 6 in Sofia, Bulgaria and on June 10 in Mexico City, Mexico with matches involving Elias Emigdio (MEX) vs Fernando Martínez (ARG), Jasurbek Latipov (UZB) vs Ilyas Suleimenov (KAZ), Mohamed Flissi (ALG) vs Sajad Mohammadpour (IRI) and Redouane Asloum (FRA) vs Aleksandar Aleksandrov (BUL).
Guyiang, China will also host four world class Bantamweight (56 kg) contests with Alberto Melian (ARG) vs reigning AIBA World Champion Javid Chalabiyev (AZE), Benson Njangiru (KEN) vs Jiawei Zhang (CHN), Sangmyeong Ham (KOR) vs Matti Koota (FIN) and Hakan Erseker (GER) vs Yoni Blanco (VEN) on June 6 and 7.
On May 30, the Lightweight (60 kg) division will meet in Tashkent, Uzbekistan, with four matches including Hurshid Tojibaev (UZE) vs David Joyce (IRL), Dmitry Polyanskiy (RUS) vs Robson Conceição (BRA), Charly Suarez (PHI) vs Magomedrashid Dzhabrailov (RUS) and Domenico Valentino (ITA) vs Artur Bril (GER).
Guyiang, China and Mexico City, Mexico will be the distinguished locations for the Light Welterweight (64 kg) boxers on June 10 and June 20 respectively, where four major bouts will take place across two continents headlined by Artem Harutyunyan (GER) vs Evaldas Petrauskas (LTU). There will also be additional bouts between Carlos Aquino (ARG) vs Abdelkader Chadi (ALG), Juan Romero (MEX) vs Chabane Fehim (FRA) and Vyacheslav Kyslytsyn (UKR) vs Livan Navarro (CUB).
On June 19, Russia will welcome the Welterweight (69 kg) division to Moscow, with Rayton Okwiri (KEN) vs Gyula Kate (HUN), Eimantas Stanionis (LTU) vs Andrey Zamkovoy (RUS), Arajik Marutjan (GER) vs Amin Ghasemi Pour (IRI), and Ariosdeny Despaigne (CUB) vs veteran Dimitrios Tsagkrakos (GRE).
The Middleweights (75 kg) will meet on July 17 in Saratov, Russia, highlighted by Russia's Artem Chebotarev vs Bogdan Juratoni (ROU), with three more matches involving Michel Tavares (FRA) vs Dmytro Mytrofanov (UKR), Hosam Abdin (EGY) vs Xhek Paskali (GER) and Nickson Abaka (KEN) vs Marlo Delgado (ECU).
Two venues in Sofia, Bulgaria and Guyiang, China will welcome four Light Heavyweight (81 kg) matches on June 6 and June 20 respectively, which will feature Commonwealth Games silver medalist Kennedy St Pierre (MRI) vs Spas Genov (BUL), Joseph Ward (IRL) vs Mathieu Bauderlique (FRA), 2013 European Champion Nikita Ivanov (RUS) vs Abdelhafid Benchabla (ALG), and Serge Michel (GER) vs Oybek Mamazulunov (UZB).
On June 5, the Heavyweight (91 kg) boxers will meet in Milan, Italy, headlined by two-time AIBA World Champion Clemente Russo (ITA) vs Roman Golovashchenko (UKR). Also competing will be Chouaib Bouloudinats (ALG) vs Anton Pinchuk (KAZ), Yamil Peralta (ARG) vs David Graf (GER) and Tervel Pulev (BUL) vs Marko Calic (CRO).
The Super Heavyweights (91+ kg) will battle for supremacy in Marrakech, Morocco on the same day, with Mohammed Arjaoui (MAR) vs Magomedrasul Medzhidov (AZE), Magomed Omarov (RUS) vs Mihai Nistor (ROU), Tony Yoka (FRA) vs Ali Eren Demirezen (TUR) and debutant Frank Sanchez (CUB) vs Ali Kiydin (GER).