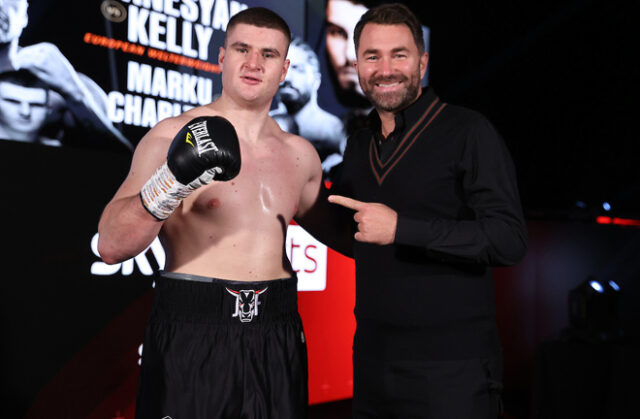 Heavyweight prospect Johnny Fisher says he was delighted with his debut victory and feels he dealt with the weight of expectation.
Fisher (1-0, 1 KO) made a winning start on his much-anticipated first outing, dropping Matt Gordon twice on route to a first round stoppage at the SSE Arena on Saturday.
'The Romford Bull' who had been training in Fuerteventura alongside WBO Super Middleweight champion, Billy Joe Saunders in preparation says he couldn't have been more pleased with his start to life in the professional ranks.
"I feel relieved, I feel happy, I feel relaxed," Fisher told proboxing-fans.com.
"I feel like all that sort of hype and all the expectation, I've shown a little bit of what I can do.
"There's plenty more work to do with Mark [Tibbs] and Steven [Andrews] and my team and it's just a good start.
"I couldn't have asked for a better start than a round one knockout against Matt Gordon, who we've got to him credit, he does hang in there with other opponents, other debutants coming through, he hangs in there for two, three rounds and always gets stopped on his feet.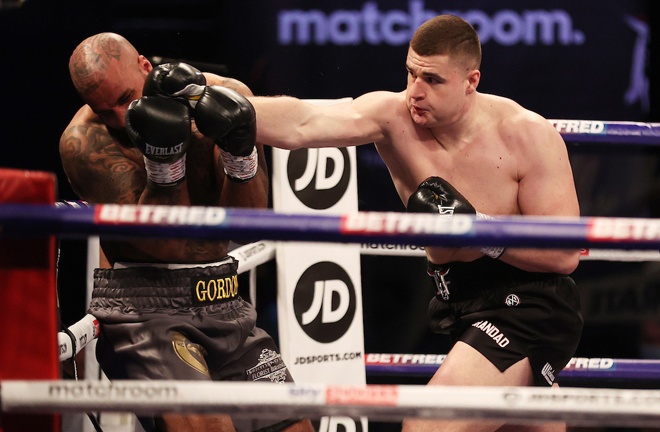 "Because I knocked him down a couple of times, I'm quite happy with that, it's a good performance.
"I wouldn't have been unhappy if it went four rounds, if I boxed well, I would have boxed well, because I know I'm powerful, I know I've got strength and every heavyweight does carry a bit of power, but I know I've got heavy hands.
"So all I was doing was first 20-30 seconds, I thought I'd assert my authority, let him know you've got that power, let him feel it and if you noticed the second minute, just calmed down, not a breather, just composed myself a bit more and assessed the situation and then I started getting my counter right hands off, because it was going the down the pipe."
Fisher had well publicised sparring with the likes of British, Commonwealth and European Heavyweight champion, Joe Joyce, English titlist, Fabio Wardley and former world title challenger, Hughie Fury amongst others.
Having now had his debut, the 21-year-old believes his high-level sparring has improved his game and was key in helping him to remain composed under the lights.
"I didn't think it was bringing me on as much as it has," Fisher added.
"I think it helped me change my mentality from being a raging bull, someone who just charges in, head first, smash, smash, smash.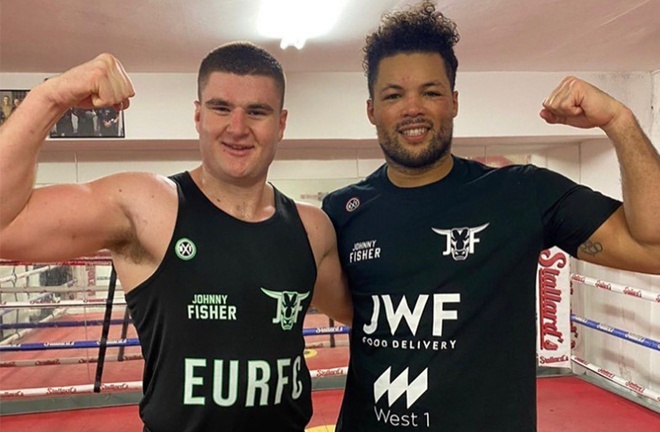 "I think we saw it in that fight, because I was a bit, not reckless but I was very aggressive for the first 20, 30, 40 seconds and then it gave me that presence of mind.
"When you've sparred loads of rounds with people like the Fabio Wardley's, Joe Joyce's, Hughie Fury's, Dave Allen's, you learn off them you've got to pace yourself, this is 12 round boxing we're going to be working up towards, so you've got to pace yourself, you can't fight at a relentless pace, you've got to be switched on.
"So, it definitely has benefitted me and now I'm hopefully going to start translating them performances in sparring into boxing matches."
The Essex man is hopeful of returning to the ring by late April, May and although his aim is to be as active as he can, with just 10 amateur fights under his belts, he admits he's in no rush and is looking to be given more tough tests.
"I know I'm not a world beater yet," Fisher continued.
"I've just got fundamentals and good skills and good power, but I've got a learning to do to hone them skills. I'm not calling people out or saying I'm going to be the next big thing.
View this post on Instagram
"I'm going to listen to Conor Benn's advice what he gave to me when he was being interviewed afterwards on Sky.
"He said people are going to be cheering for you to fight this guy, fight that guy, fight this guy, but listen I've got bundles of time I'm not going to be rushed by anyone into these big fights.
"I don't need to be, I really don't need to be, because I'll just burn myself out. I've got to be steady and I'll have tough enough fights fighting at lower than domestic level and getting these tough guys out of there, so I've got a long, long way to go until I can even think of competing with them guys."
Watch the full interview with Johnny Fisher below: