Despite the efforts of many boxing sites out there who always look to jump the gun without actually verifying facts or seeking legitimate sources, the rumored May 4th Floyd Mayweather vs. Robert Guerrero fight is just that… a rumor. Take it from the man himself, Mayweather, who had this to say on his Facebook page today:
"As of right now I don't know who I'm fighting on May 4th. Me fighting Robert Guerrero is just a rumor."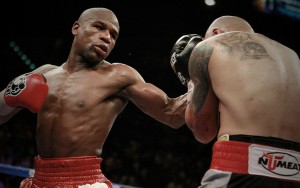 Now, there could be any number of reasons why he'd say this. Maybe he's just sick of the rumors which have been circulating without verification. Or perhaps he's making a bit of a final negotiating push with Saul "Canelo" Alvarez's team, or an otherwise unknown potential opponent.
Mayweather would of course have full leverage against either Guerrero or Alvarez, or anybody else at this point. That said, somebody like Canelo doesn't have to take the fight against Mayweather just because. While it would certainly be his biggest payday, he wouldl be able to sell out a venue on Cinco de Mayo weekend in Las Vegas all on his own, and pull in several million dollars.
And when fighters make public statements like this, it's often with good reason. So we'll see if this tactic by Mayweather leads to any official announcements in the coming week or two.
Mayweather's May 4th fight is in many ways locking up the boxing calendar. Opponents such as Alvarez and Guerrero, and any other mystery men out there, are in limbo until Mayweather makes his decision and a deal is finalized. Once that has been completed, then all of the other fighters involved can plan their spring calendars accordingly. So it would be nice to see something hashed out as soon as possible.
Until then… it's all just speculation.
Mayweather vs. Guerrero remains a strong candidate for this May, but from Mayweather himself, right now it remains a rumor.