Floyd Mayweather took home the ESPY for Best Fighter in the 2012 ESPY award show on Wednesday evening. To earn the title, he edged Andre Ward, as well as two of MMA's best: Jon Jones and Anderson Silva. Fans get to vote on the award winners, which are doled out for the previous calendar year's achievements. Considering that, it was a bit of a surprise that Mayweather took home the ESPY for Best Fighter, as in 2011, his only win was the controversial showdown against Victor Ortiz.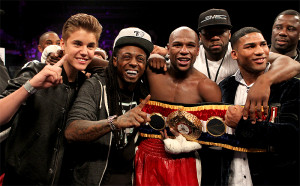 For Mayweather, that's his 4th time winning the ESPY Best Fighter award, including four of the past six years. He has won in 2007, 2008, 2010 and 2012. The other two years – 2009 and 2011 -Manny Pacquiao took home the award, but he was not up for nomination this time around.
Somebody from the Money Team released a statement from Mayweather on his Twitter account, as Mayweather is still in the midst of his three month jail sentence. Here's what it said:
"I am very grateful for my fans and all of the continued support. Your letters and pictures are helping my time go by.  Thank you to all the fans who voted and helped me win at tonight's #ESPYs. Your continued support is appreciated. Congratulations to all the other nominees. You guys are GREAT fighters."
For Mayweather, the good news continues to roll in for him as he has been in jail. He saw Manny Pacquiao lose a controversial decision. He was recognized by Forbes Magazine as the highest paid athlete in the world. And now he wins the ESPY Best Fighter award. Not a bad jail stint, all things considered.