Of boxing's big two, Floyd Mayweather is probably the better boxer. Pacquiao is easily the greater gladiator, but it's Mayweather who has made defeating every single man he has ever been in the ring with save one (see below) look easy.
Yet that very dominance limits Mayweather's appeal. Whereas Pacman can attract diehard non-Filipino fans because he delivers all the action a boxing fan could ever want, I often suspect the only real reason anyone supports Mayweather is because he always wins. Only a lover of boxing's technical purity could possibly find Pretty Boy's style exciting, a point that excludes all casual fans of the sport. That makes finding truly hair-raising, heart-pounding fights in Mayweather's 43-fight resume a little tricky, but a handful of events stand out.
Top 5 Most Exciting Fights for Floyd Mayweather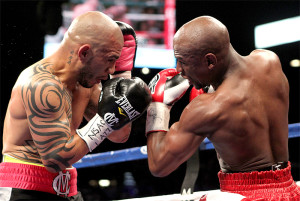 1. Floyd Mayweather vs. Jose Luis Castillo I: In my mind, this fight is the most exciting of Mayweather's career because it's the one he lost. Even those who don't agree with me about that at least acknowledge that Castillo took Mayweather as close to losing as he has ever been.
It was the first time Mayweather had ever been faced with a man with the grit to wade through his fast hands and sharp counters so as to land even harder blows in return, and the result was a nail-biting slug fest that saw Mayweather come off the worst, landing few punches in every category. In my book, this is the only fight in Mayweather's entire career where the outcome was in doubt for every single round of the fight, and that makes it Mayweather's most exciting bout ever.
2. Floyd Mayweather vs. Diego Corrales: Rewind back to when Mayweather was just a loud-mouthed, arrogant kid who had done next to nothing to back up his braggadocio. He started changing all that when he met Diego Corrales, a passionate, rangy slugger who was undefeated and regarded as a top-10 pound for pound fighter. Just to raise tensions higher, the two fighters despised one another, and their respective futures with HBO hung on the outcome of the fight.
The result was action-packed, and shocking in its one-sidedness. Mayweather scientifically broke Corrales down, causing an avalanche-like collapse in Corrales' ability to compete after the middle rounds, and ultimately leading to Chico's 10th Round knockout.
3. Floyd Mayweather vs. Ricky Hatton: Going into this 2007 bout, many thought the undefeated Briton had the stuff to collapse Mayweather's defensive style, and many forget that Hatton almost did. His brawling style smothered Pretty Boy for the first few rounds, reducing the stylist to landing one spectacular counter at a time on the rough-and-tumble Mannie. It was not until after the mid-point of the fight that Mayweather finally found his range, but when he did, it was a massacre for Hatton. Mayweather began landing electric combos and crushing uppercuts, culminating with a hook that sent Hatton down into the corner face-first. Hatton got up, but was stopped shortly thereafter.
4. Floyd Mayweather vs. Jesus Chavez: While Castillo and perhaps Hatton were more successful in using pressure tactics on Mayweather, no one actually applied more raw, aggressive action on the slickster than Jesus Chavez. Pretty Boy responded by gleefully coming halfway to meet the Mexican gladiator in a phone booth. The result was an action-packed brawl, and while Mayweather didn't truly beat Chavez at his own game, he certainly beat him on his own turf. Going out on his shield, Chavez's corner had to throw in the towel to avoid seeing their guy absorb further punishment.
5. Floyd Mayweather vs. Arturo Gatti: In the minds of some people, an electrifying competition is not half as exciting as a one-sided beat down, and those people love replays of Mayweather vs. Gatti. In peak form and paired with the perfect foil, Mayweather delivered the "Cleveland Williams" performance of his career. Every move he made was gracefully perfect, every punch brutally hurtful. The tough, powerful Arturo "Thunder" Gatti, long a fan favorite for his never-say-die attitude, wasn't merely defeated. He was slaughtered.