Fast, aggressive and powerful, Manny Pacquiao is arguably boxing's most exciting fighter. While Floyd Mayweather stands as his main rival, Pretty Boy's slick, defensive style wins converts mostly because it has resulted in an unbroken succession of victories. By contrast, a Pacquiao fight is short on action only when the opponent refuses to fight back. Win or lose, Pacman always tries to deliver excitement to fight fans, and that is the quality that puts butts in the seats around the world. While his resume is stuffed with barnburners, historic moments and hard-punching spectacles, a handful of Pacquiao's fights stand out as the most exciting of his career.
Top 5 Most Exciting Fights of Manny Pacquiao
1. Manny Pacquiao vs. Oscar de la Hoya: Hindsight is always 20-20, so it is not clear why Pacquiao was able to make the Golden Boy quit on his stool. Oscar's interest in boxing had been on the wane for years, and beating the smaller Pacquiao was supposed to be his big retirement fight. He was also fighting below the 147-pound limit for the first time in 11 years that night.
Even so, Oscar was the heavy favorite going into the match, and almost no one openly picked Pacman to win (not even the early version of his rabid Filipino fan base, which you can see for yourself on the old forum posts). Pacquiao's shocking upset rout of de la Hoya left the collective mouth of boxing agape, and turned Pacman from a boxing star into an international sports superstar almost overnight. It was a super-charged fight with super-charged results, and if you were watching it live and weren't on your feet, it must have been because the shock induced a coronary.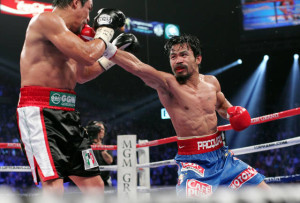 2. Manny Pacquiao vs. Juan Manuel Marquez I: The first encounter in a rivalry Pacquiao would clearly prefer to do without, this fight stands as a featherweight classic. In the 1st Round, Pacman's speed and power floored a surprised Marquez three times. It was a start few fighters could have recovered from, but despite bleeding heavily from the nose, Marquez did exactly that. Relying on his Mexican ruggedness and his counter-punching skills, Marquez boxed his way back into the fight.
Yet because of those 1st Round knockdowns, the suspenseful notion that a hard push by Pacquiao might put Marquez back on his ass lurked behind each and every one of the remaining 11 rounds. As is often the case with trilogies, the first installment was the most memorable.
3. Manny Pacquiao vs. Lehlo Ledwaba: In my mind, the 2001 clash with South Africa's "Hands of Stone" was the first big outing of the Pacman boxing has come to know and love. Taking the fight as a short-notice substitute, Pacquiao had a tentative start, but soon started taking it to and hammering down Lebwaba, the experienced, hard-punching IBF Super Bantamweight champion. Ledwaba went down three times en route to a 6th Round KO defeat. It was a thrilling debut for the Filipino dynamo, and anyone who saw it chalked Pacquiao down as a man to watch closely.
4. Manny Pacquiao vs. Erik Morales II: In 2006, it wasn't clear than Erik Morales was on the downslide or that Manny Pacquiao was set to become "The Mexi-Slayer." In their first encounter, Morales had out-boxed Pacman for 11 Rounds, and out-slugged him for the closing stanza. In the intervening fight, El Terible had suffered an upset loss to Zahir Raheem, but wasn't widely seen as spent yet. For his part, Pacquiao was 1-1-1 with the big Mexican featherweights. No one expected Pacquiao to beat Morales from pillar to post and win a TKO10. The fight was as shocking as it was brutal.
5. Manny Pacquiao vs. Chatchai Sasakul: If you haven't seen this bout, go back and watch it on YouTube, because you will wonder if you are really watching Manny Pacquiao! This is an example of a fight that is more exciting in replay. Just days from his 20th birthday, Pacquiao was hesitant in the face of the veteran Thai warrior, but you can still see flashes of the attributes that made him. If you can blot out that Pacquiao took Sasakul out in the 8th, it looks like Pacquiao is going to lose on points, making it a real nail-biter.