Slim Pickings on Mayweather's Drawing Board: Part I
After coming off a decisive victory to solidify his reign at the top of the sport, Floyd Mayweather said he was going to take a vacation and then go back to the drawing board. But who would be on this drawing board? The manwho was supposed to give Mayweather his toughest challenge to date essentially looked like a sparring partner.
So, who else is out there? Are there any viable opponents left? Well, there are names out there, among them Danny Garcia, Amir Khan, Devon Alexander, Tim Bradley, and Miguel Cotto, These are the top 5 obvious choices to land a date against Mayweather next.
The Case for Khan:
Amir Khan was a name that brought much anticipation at one point, but has lost significant value after suffering a pair of losses. Now his name has come back into the picture after dropping out of what was supposed to be a worthwhile match-up between against Alexander on December 7th. With Khan dropping out, speculation has again begun that a fight with Mayweather might be the reason why.
Khan's controversial losses to Lamont Peterson and the knockout defeat by Danny Garcia have led many to puzzle why Khan would still even be in the equation. It's a good question, and the primary reason if  he's chosen to be an opponent  would be his international recognition, as he has the potential to draw a larger overseas audience.
Moreover, Mayweather has always said he wanted to fight in the UK for his fans in Britain and this would be the guy to do it with. While it might have been a competitive or interesting fight at one point, now, it seems like like a mismatch, and isn't of much interest to most fans.
The Case for Bradley:
Timothy Bradley is coming off of a huge win against Mexican legend and Pacquiao foe, Juan Manuel Marquez. Bradley gutted out a hard earned split-decision, which displayed his fierce determination, solid footwork and quick hand speed. And although Bradley typically lacks power with only twelve knockouts – he had Marquez wobbled a couple times throughout the fight.
But there are several problems with a match-up between Mayweather and Bradley. For starters, we already know about the cold war between Top Rank and Golden Boy, which will negate the promotional aspect immediately.
Moving past that, from a competitive stand point, yes, they both have undefeated records, but, Bradley lacks the punching power needed to keep the pressure on Mayweather. Mayweather would walk right through his punches, if he ever got hit, and would easily out-box Bradley.
The Case for Alexander:
The other name mentioned earlier was Devon Alexander, a name that was thrown out on Twitter by Mayweather prior to the Roberto Guerrero bout being signed. It was a bluff by Mayweather to put pressure on Guerrero to sign the contract and to make Guerrero look like a move viable opponent. But that's exactly the problem with Alexander, he lacks the name recognition and credibility to fight in a mega-fight with a guy like Mayweather. A win over Amir Khan would have helped him there, but he was denied that opportunity.
The Case for Garcia: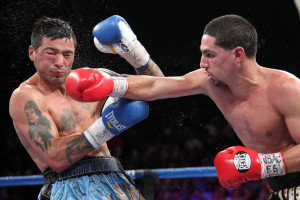 Perhaps, it is Danny Garcia who is the most deserving of a fight with the best boxer in the world. Time after time, Garcia finds a way to win. Many people predicted Garcia would get knocked out early by Matthysse. The Argentinean "Machine" had scored a knockout in 32 of his 34 wins. But just like any good boxer, he rose up against adversity and preserved.
His name recognition is gradually rising and he is young, hungry and is under the Golden Boy promotional banner, so there would be no obstacles in that respect. He's not particularly great at any one aspect. He's is a good overall boxer, with tremendous heart and a solid chin. Garcia has a quiet but impressive resume, solidified with his latest win.
The best part about this fight would be Showtime's All Access series leading up to the fight. Indisputably, the two most outspoken dads, and trainers, would certainly engage in a war of words, bigger than Guerrero Sr. vs. Mayweather Sr. If the fight happens, Floyd Mayweather Sr. vs. Angel Garcia should be on the undercard.
The Case for Cotto:
After fighting Mayweather, Cotto came up short against a bigger Austin Trout. He's coming off a bout where he scored a 3rd round KO against Delvin Rodriguez. Cotto looked like his old self – with his power left hook dominating the fight. While Cotto did put up a couple decent rounds against Mayweather, it was hardly enough to elicit a rematch.
Not to mention, Mayweather has only fought one rematch in his career, which was against Jose Luis Castillo and it was only because it had been a controversial win for the younger Mayweather. Cotto's best bet is to take an anticipated bout against Mayweather's most recent victim- Canelo Alvarez.
Comments
comments