Banner Promotions is proud to announce the signing of undefeated light heavyweight Michael Seals to an exclusive promotional contract. Seals of Atlanta, Georgia has record of 16-0 with 12 KO's.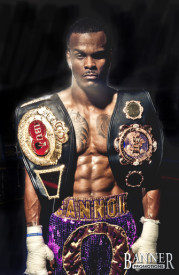 Seals began boxing after attending college at Alabama A&M. He began training at the Paul Murphy Boxing Club in Atlanta where his trained by "Sugar" Bert Wells. After a brief amateur career, Seals turned professional on November 25, 2008 with a 2nd round stoppage over Ousman McClain in Indianapolis, Indiana.
Seals proceeded to stop undefeated Michael Sunkett. He also has wins over battle-tested veterans DeAndrey Abron, Robbie Tovar and Adam Collins.
Seals scored his signature victory when he stopped former world champion Byron Mitchell in the first round on December 8, 2012.
Seals is coming off a second round stoppage over 41 fight veteran William Johnson on September 7th.
"I am excited to be a part of Banner Promotions," said Seals. "I know they can do a lot of big things and can take my career to the next level."
"Within the next year, I will be looking to be in the top 15 and will be fighting for the world title by 2015. Banner Promotions will provide me with the opportunity to introduce me to the world. I feel like i am the most talented light heavyweight and i know the world will be excited to see that," finished Seals.
Seals is managed by Atlanta attorney Keishan Davis.
"The kid loves boxing and is such a gym rat that he sleeps in between his workouts at the gym. He has been told to slow down and he basically lives at the gym. We are very excited to be with Banner Promotions. They have shown they can get fighters to the highest level and they will provide Michael that avenue."
Said Banner Promotions CEO Arthur Pelullo, "We have been talking to Michael for a little bit and we are very happy to have him in the fold. He has great potential and we will give him the opportunity to showcase the skills that we believe can take him very far."
Seals, who stands 6 foot 2, was raised in Mobile, Alabama and has a college degree in physical education from Alabama A&M.
He will see action on November 9 against veteran Steve Walker in Norcross, Georgia.