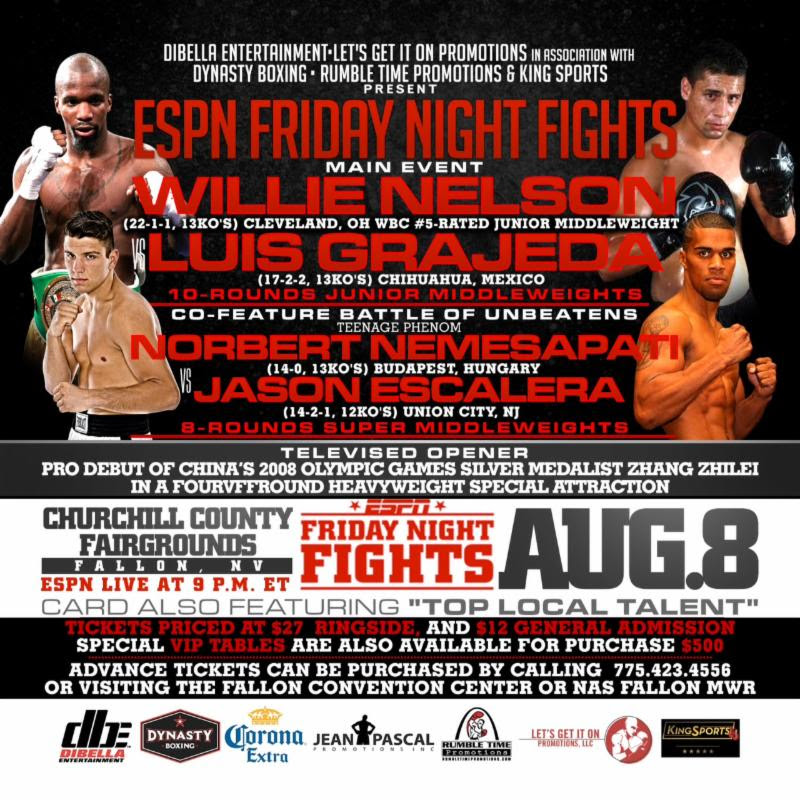 ESPN Friday Night Fights heats up on Friday, August 8, when the show takes place outdoors in the Nevada desert as the seventh annual "Fallon Fights: Rural Rumble" from the Churchill County Fairgrounds in Fallon, Nev., is televised live at 9 p.m. ET on ESPN2. Jr. Middleweight contender Willie "The Great" Nelson (22-1-1, 13 KOs) and Luis Grajeda (17-2-2, 13 KOs) will be featured in the 10-round main event. The card is promoted by DiBella Entertainment.
Main Event:
Cleveland's Nelson, by way of Youngstown, Ohio, has won his last six fights, including most recently a first-round TKO over Darryl Cunningham. Grajeda, who hails from Mexico, is looking to score a win following an eight-round draw against Said El Harrak.
"I've seen a few of Grajeda's fights," Nelson said. "He fights at a slow, steady pace and throws loopy punches, sort of like Michael Medina. There's nothing really special about him besides his power. He really does have big punching power, but his quality of opponents wasn't the best."
Grajeda said through an interpreter, "I've been watching videos of Willie Nelson. He's a boxer and uses his reach a lot. This is the first time I've fought anybody that tall. I'm just going to be intelligent in the fight, and maintain the distance that I fight at. I'm going to go to the body a lot, too, because he's so tall. I'm going to give my all in the ring – I'm going to fight my heart out."
Co-Feature:
Friday's eight-round co-feature will pit undefeated Super Middleweight Norbert Nemesapati (14-0, 13 KOs) of Hungary, against New Jersey's Jason "Monstruo" Escalera (14-2-1, 12 KOs). Nemesapati, who will be making his U.S. debut, is coming off a sixth-round TKO win over Ivan Stupalo. In his last outing, Escalera won a six-round split decision over previously undefeated 2008 Swedish Olympian Naim Terbunja.
Opening Fight:
Friday's show will open with a four-round Heavyweight bout between China's Zhang Zhilei and Tennessee's Curtis Lee Tate (6-4, 6 KOs). Zhilei, a 2008 Olympic silver medalist, will be making his professional debut.