Boxing promoter, Frank Warren, claims Matchroom Boxing's Eddie Hearn "has no respect for the sport". Hearn announced yesterday that Amir Khan, who signed a three fight promo deal with Matchroom, will make his return to the ring on 21st April – the same night Carl Frampton takes on Nonito Donaire.
Hearn stated that Khan will return on the 21st April, something Frank Warren is not too pleased about. Frampton's clash was confirmed on Tuesday and is to be aired on BT Sport and BoxNation.
While speaking to BoxingNews, Warren stated, "We announced ours first, we're not going to change the date because Khan is now fighting on the same night."
Carl Frampton will face Nonito Donaire in a 12 round Featherweight bout, which Warren believes will be much more of a fight than whoever Hearn has lined up for Khan.
"What I will say is that we've got a real fight in Frampton and Donaire. Let's face it, Khan will be fighting a stiff whereas we've got two live fighters."
Warren also stated that Amir Khan approached him before signing with Matchroom, with Warren making an offer.
"Khan approached me," Warren. "He wanted to fight Manny Pacquiao and that's something we could have done. We had him [Khan] in his early days and we had some good nights with him, so we made him an offer but he obviously chose another route.
"Khan's value of himself does not match our value of him – he's been out of the ring for two years and he's coming off a knockout loss.
"But he's done his deal, and good luck to him."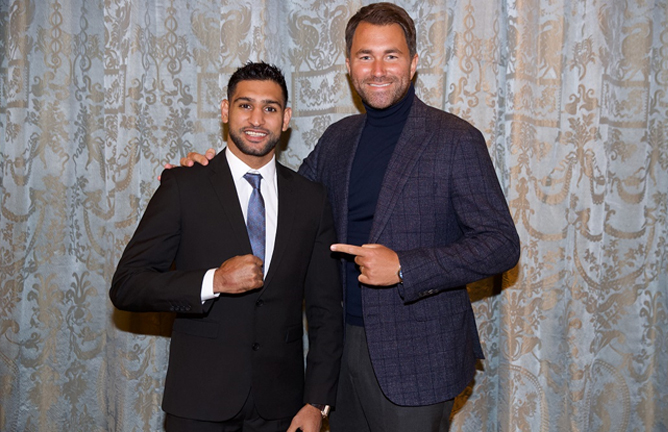 Both Sky Sports and BT Sport will be televising both fights on the same night, and Warren slammed it as "stupid".
"It's a stupid decision," said Warren. "You wouldn't have Manchester United and Manchester City playing in separate matches at the same time on two different channels would you? It just shows he [Hearn] has got no respect for the sport. It's so stupid."
Khan's opponent is yet to be confirmed, though an announcement will be made next week.
Carl Frampton vs Nonito Donaire will be live from the SSE Arena, Belfast on the 21st April 2018.