Will David Haye Retire After his Terrible Loss to Klitschko?
Carl Froch has plenty to think about ahead of his mega-fight with Andre Ward, but he still found the time to tell The Daily Star that he thinks David "Hayemaker" Haye will probably retire. The two British boxers are friends and met while on vacation in Jamaica. Froch indicated that they went on a five-hour tour of the island together, and during that time Haye made it sound very much like he wouldn't make a comeback following his lopsided defeat at the hands of Wladimir Klitschko.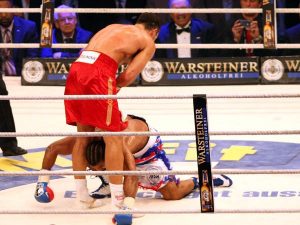 "I don't think he is going to fight on. He didn't give me a definitive answer but listening to him, it doesn't really sound like it," Froch said of Haye. "He wanted to go out on a better note. Whether he will fight again, personally I don't think he will."
On the surface, Froch's statement that Haye might retire merely proves that the Hayemaker is discouraged in the wake of his loss to Klitschko. After all, David Haye is 30 years old, and can reasonably expect to have at least five more years remaining to him as a top-tier heavyweight, if not more.
However, David Haye has consistently maintained his ambition was to retire at age 31, and his birthday is coming in October. Also, if David Haye should soldier on, it will be with the same intention that every other fighter in the division (with the possible exception of Tomasz Adamek): to position himself to fill the vacuum following the retirement of one or both Klitschkos.
David Haye has his money and some post-boxing prospects, and while he could continue his career, the prospect of rebuilding his reputation against opponents like Eddie Chambers, Tony Thompson, Ruslan Chagaev and Alexander Povetkin (Chambers vs. Thompson and Chagaev vs. Povetkin are scheduled for later this year) must seem somewhat distasteful. Basically, it means working hard and taking punches, and Haye might not need the money that badly. Never forget that Naseem Hamed retired under similar circumstances.
Ultimately, I doubt a man with David Haye's pride will go out on a loss, but I also don't think a man with David Haye's pride will toil for years while waiting for Dr. Ironfist and Dr. Steelhammer to retire. While I believe Haye will probably pull himself together and stage at least one more fight, if it doesn't look like one or the other Klitschko will retire in 2012, that comeback fight could be his last.