On September 10th, tough as nails Tomasz Adamek will make his foray into upper echelon of the ranks of the big men when he challenges WBC Heavyweight Champion Vitali Klitschko before a crowd of sympathetic Poles in Wroclaw. In many ways, Adamek faces a sterner test than David Haye does in fighting Wladimir Klitschko in July, since many consider big brother Vitali to be the fiercer of the two brothers. Can Adamek do what no fighter since Lennox Lewis has done, and topple Dr. Ironfist?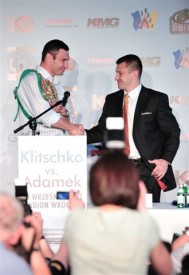 Tomasz Adamek (44-1, 28 KOs)
6'1 1/2″ tall, 74″ reach, 34 years old
Polish
Former light heavyweight champion, former cruiserweight champion
Adamek is a well schooled fighter in the stand-up, continental European tradition with a solid amateur pedigree and a granite chin. Discounting the knockdown Adamek suffered in his losing 2007 effort against Chad Dawson, where he clearly tripped over Dawson's foot, Adamek hasn't been on the canvas since 2002. He is a small heavyweight, smaller even than David Haye, but he is no stranger to mixing it up with big guys, having nailed the scalps of Andrew Golota, Michael Grant and Chris Arreola to his pole.
Vitali Klitschko (42-2, 39 KOs)
6'7 1/2″ tall, 80″ reach, 39 years old
Ukrainian
Current WBC Heavyweight Champion, former two-time heavyweight champion
Dr. Ironfist is now well into his third reign as heavyweight champion. The first reign came to an end at the hands of Chris Byrd, and the second came to an end because the injury-prone Vitali retired. Since coming back, he has knocked off Sam Peter, Juan Carlos Gomez, Chris Arreola, Shannon Briggs and Odlanier Solis. Of the two Klitschko brothers, Vitali is thought to be slower and less athletic. However, he is also the bigger, stronger brother, probably hits harder than little brother Wladimir, and undoubtedly has the more solid chin and a greater willingness to get physical and mix things up.
Klitschko vs. Adamek Analysis and Preview
Dr. Ironfist hasn't fought a guy like "Goral" Adamek in a long time, because Adamek is motivated, focused, looking for a challenge and fully intending to master that challenge. Simply put, Adamek has the psychology of a winner. The only two times Vitali has fought a guy with his head as screwed on as that — Lennox Lewis and Chris Byrd — he lost. Let's compare him to fellow ex-cruiserweight Juan Carlos Gomez. The Cuban turned heavyweight and spent six years kicking around Germany and Turkey, accomplishing very little beyond losing his undefeated status to Yanqui Diaz, before meeting Klitschko. Adamek flattened Golota in his heavyweight debut only two years ago, and here he is taking on the biggest dog in the division. Adamek always shows up lean and trim, quite a contrast to the blubbery Chris Arreola or the bulky, body builder muscles sported by Shannon Briggs. Adamek is not going to Wroclaw expecting defeat.
Adamek's main hope for success is in using mobility, patience, durability and sheer grit to take Klitschko out of his comfort zone and wear him out. As a blown-up light heavyweight, Adamek certainly cannot rely upon size. Adamek must stay mobile and try to use his footwork to neutralize Klitschko's telephone pole jab, firing off a few punches and getting clean away. Many try this tactic, and most fail. Adamek must be prepared to eat plenty of Klitschko's punches, but so long as he doesn't get nailed on a soft spot by a clean straight right, he should be able to weather the punishment. If Adamek is successful, Klitschko will be forced to follow him around and throw lots of leather, and those are exactly the same circumstances that caused a much younger version of the injury-prone champion to tear his shoulder against Chris Byrd eleven years ago. Klitschko is 39 and infamous for getting hurt in the gym; if forced to work too hard in the ring, he'll tire dangerously to say the very least.
That said, I have a hard time seeing Adamek pulling it off. He might give Klitschko fits, but Dr. Ironfist has a Plan B that Dr. Steelhammer lacks. If Adamek gets his game plan going and it looks like its working, Klitschko can just turn puncher and mix it up with Adamek. The Pole is a tough customer, but he has never tasted anything like Klitschko's artillery. If the big Ukrainian decides to tattoo Adamek, "Goral" is getting mauled. If  Adamek ties Klitschko up, he winds up with a 250 lbs man leaning on him. If Adamek mixes it up, he'll catch at least a few of the biggest bombs he has ever seen.
Finally, if Adamek isn't good enough to impose his game plan, he will suffer the same fate as every Klitschko's opponent in recent years: the jab in his face all night, with an SS-18-like straight right lying in wait should he tire or his guard falter. It ain't a pretty picture.
Klitschko vs. Adamek Prediction
Vitali Klitschko TKO10