Froch dominates Abraham to Win Super Six Stage 3 + Ward-Bika Results!
Carl Froch put on a spirited display of fighting in shutting out favored Arthur Abraham. Only one judge gave Abraham an even round. 
Abraham vs. Froch Results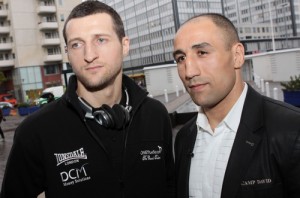 The fight was entertaining and tense, if not a bit monotonous. The manner in which Froch nullified Abraham was stunning. Using his length, reach, and some nifty maneuvering, the spidery Froch kept Abraham at long range throughout. While doing so, he lashed out with his longer shots–completely outworking Abraham round after round.
From time to time, but not nearly enough, Abraham would rush in. Sometimes he would land a decent right hand, but his advances were usually reserved to rough-housing punctuated by a few clubs to the side and back of Froch's head.
It seemed Abraham was merely off to his customary slow start. But the surge never occurred. Even when he showed added gusto, Froch redoubled his efforts to render Abraham's vigor moot.
Round after round, the pattern played out with Froch doing almost all the meaningful work, while effectively preventing Froch from doing his. Froch was utterly concentrated and steadfast in his boxing, never relinquishing the edge.
For the first half of nearly every single round,  Abraham did absolutely nothing except move forward with his gloves high sponging shots. And even when he heated up at the end of certain rounds, he never accomplished much. Froch's ring IQ was impressive in this fight. He drew the line in the sand and mastered the art of distance for the entire fight.
Those backing Abraham were probably still hopeful until the 8th or 9th round. Up until that point, Abraham had been stoic in absorbing Froch's best punches. By the end of the 8th round, however, Froch was beginning to put a dent in the rock-like Armenian battler.
Froch continued his dominance in the 9th, but Abraham offered a glimmer of hope for a late comeback, as he roughed up Froch briefly at the end of the 10th. No such luck. Abraham opened the 11th by doing what he did in the first half of all the other rounds: Nothing! Froch continued to strafe him with shots. By now, it looked like Froch was beating up Abraham a little.
The 12th looked like it might be a classic, with Abraham opening with vigor. Such hopes petered out, as Abraham returned to his shell. Froch closed in style. At the bell, there was no question as to who had won. Froch was utterly dominant and a tad bit masterful. A great performance!
This was the final bout before the Super Six goes into the single-elimination semifinal matches. It looks like Andre Ward will take on Abraham, while Froch tangles with Glen Johnson.
Ward vs. Bika Results: Andre Ward Defeats Bika!
In a nice performance, Andre Ward moved to 23-0 with a unanimous decision over rugged and gritty contender Sakio Bika. Bika meant business and Ward proved a lot in not only withstanding the vigorous attack of Bika, but beating him at his own game. Against Allan Green, Ward showed he is a lot more than a speedy stylist. But it is one thing to win an infighting battle against a flat and suddenly-dilapidated Allan Green and quite another to do it against the man who showed up to fight him tonight.
Bika really buckled down and took it to Ward. His right hand, often thrown in the clinch, seemed to have Ward in a bit of distress. There were anxious moments early, as Bika appeared to be dictating the action with his reckless brawling. Strong and awkward, he roughed up Ward a bit and was succeeding in making this a brawl.
Ward had been accused of being dirty, but was forced to take some of his own medicine, as Bika strafed him with rabbit punches and a few head butts. Ward was bleeding by the 3rd, but his left hook also began to become telling.
A rugged fight continued throughout. Ward was quite impressive in showing he could fight a trench war with a gutsy infighter like Bika. Ward took punches well and fought with zeal in rugged action, despite two eye cuts.
Bika grew slightly less effervescent as the fight went into the latter rounds. Ward's technical mastery and toughness began to win the day. His punches were more telling and Bika's threat level decreased.
Scores of 120-108 and 118-110 (twice) gave Ward the unanimous decision. He earned a lot of respect tonight in a fight he didn't need to take. It showed him in another dimension, enhancing his reputation as one of the finest complete young fighters in the sport.