Carl Froch vs. Glen Johnson Super Six Semifinals Results, Plus Kessler-Bouadla:
Live from Atlantic City on Saturday, June 4th, the Carl Froch vs. Glen Johnson Super Six semifinals bout will determine the man who will challenge Andre Ward in the tournament finale, presumably sometime in the early fall. Both camps went into the showdown with extreme confidence, and a fight between these two combatants offered a chance for great excitement, as both like to bring the heat and get into good exchanges. Take a look at our coverage for Froch vs. Johnson below including our results and round by round coverage.
Froch vs. Johnson Round by Round Scorecard
| | | | | | | | | | | | | | |
| --- | --- | --- | --- | --- | --- | --- | --- | --- | --- | --- | --- | --- | --- |
| Round | 1 | 2 | 3 | 4 | 5 | 6 | 7 | 8 | 9 | 10 | 11 | 12 | Total |
| Carl Froch | 10 | 10 | 9 | 10 | 10 | 10 | 9 | 9 | 10 | 10 | 10 | 10 | 117 |
| Glen Johnson | 9 | 9 | 10 | 9 | 9 | 9 | 10 | 10 | 9 | 9 | 10 | 9 | 112 |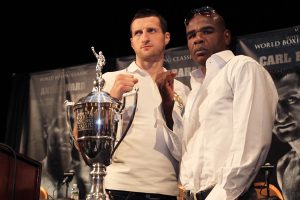 Froch vs. Johnson Round by Round Results & Updates
Rd 1: Careful first round. Both men are doing a lot of moving. Froch pokes out a few punches, before letting loose a few big jabs.
Rd 2: Johnson is pushing more and Froch looks a bit flummoxed. Froch's left is active and he gets off first many times. Johnson is slightly more sedate than we're accustomed to seeing. Close round.
Rd 3: Big jabs by Johnson. Cobra is being forced to move a lot. Big right by Johnson. Froch is a fair amount of distress with Johnson in hot pursuit. Froch not doing so badly, but Johnson imposing his will a bit. Good round by Johnson. Action heating up!
Rd 4: Froch finding some comfort now fighting on the move, working off the jab and running some shots on Johnson. Froch is working the distance well and anticipating Johnson's aggression a bit more.
Rd 5: After a slower 5th, the 2 exchange at the beginning of the round. Johnson is showing an effective jab, working the body well. Froch, meanwhile, moves and is progressively putting more mustard on some of his shots and digging in more.In the last 40 seconds, he put some serious shots on Johnson, who suddenly looks a bit deflated.
Rd 6: Johnson keeps trying to hack away with his bludgeoning right, but is basically following Froch around, who is winning the day with a higher workrate. And they aren't pitty-pat shots. Johnson's chin is almost impossible to dent and he looks like he's going to beed it to weather this. Johnson connects with a right late. He's still trying, that's for sure.
Rd 7: Good round. Johnson explodes with rights and bodyshots, with Froch returning fire and digging in passionately. Johnson showing greater activity, now ripping to Froch's body to throw a different light onto this fight just as it looked like Froch was about to pull away.
Rd  8: Froch doing well until a big Johnson right comes crashing home. Froch, as dogged as advertised, wings back! Both men tired after a series of wild exchanges. Froch more active, but Johnson is doing some mighty effective work.
Rd 9: Johnson less active in this round, as Froch takes advantage, working combinations and utilizing good movement.
Rd 10: Froch moving his hands. Big right by Froch. But what grit! Every time Johnson connects with a big right, he fires back. Johnson certainly trying anddoing a good job, but the Englishman answers every single time to his credit. With that chin and recuperative ability, it's going to be hard for old Glen.
Rd 11: This would be a fight-of-the year type of fight if not for the on- again/off-again nature of the heated action. Johnson landed a huge right at the halfway point, as has become the pattern: Froch's activity and workrate with some Johnson bombs sprinkled into the mix. Fiery exchange at the bell. Close round.
Rd 12: Froch jab dominating the action for the first 90 seconds. The champion opens up a bit. Johnson trying, but Froch is simply the better man, winning, by all appearances, a clear decision in a tough and very good fight. The decision was a majority decision by scores of 117-111, 116-112, and a hard-to-fathom 114-114. Great performance. Great win, and we all look forward to what seems like a highly intriguing final between Froch and Andre Ward.
…
From Atlantic City, the Super Six World Boxing Classic will soon have its second finalist, as Carl Froch and Glen Johnson battle in the 2nd semi-final to see who will face Andre Ward for all the marbles.
Kessler WIns in Comeback Effort
Mikkel Kessler, having been forced to bow out of the Super Six, returned by stopping tough Mehdi Bouadla in the 6th round . Kessler was sharp, especially in a big 3rd round, where he dropped Bouadli with a looping right. Strangely, Bouadli was given 27 seconds after the knockdown to get his mouthpiece washed out and put back in his mouth. He barely made it to the end as Kessler tattooed him with shots.
Bouadli again saw the canvas in the 4th, courtesy of another right. Bouadli, resolute but outgunned, returned fire and again made it to the bell. In the 5th, Kessler continued to remain active, raining punches on the dead-game Bouadli. He went down again, but it was ruled a slip. Kessler looks pretty good, showing a wide variety of punches from his arsenal.
A body attack began to signal the end for Bouadla in the 6th, sapping Bouadla and leading to a few head shots that again dropped a well-battered man. He valiantly rose and a few followup connections finally convinced the referee to call a halt. Kessler looked good and continues to add a few wrinkles under the tutelage of LA guru Jimmy Montoya. Kessler, the only man to defeat Froch,rises to 44-2 (33 KOs) and Bouadla dips to 23-4 (11 KOs).
Already in Atlantic City, Zsolt Erdei stopped former 168-pound champion Byron Mitchell to extend his mark to 33-0. Erdei, a former champ at light heavy and cruiser, is trying to get in the mix of the hot 175-pound weight class. Also on the card, Edison Miranda, now fighting at 175 after failed title tries at 160 and 168, scored an 8-round decision in dominant fashion over well-traveled veteran Rayco Saunders. Waiting for the Froch-Johnson fight.
Thanks for checking out our coverage of the Froch vs. Johnson Super Six semifinals bout. As mentioned, the winner will take on Andre Ward in the tournament finale in what is sure to be an exciting and intriguing match, and the winner will be standing alone on top of the 168 lbs mountain. Be sure to check out our Super Six Standings & Matchups homepage for more information on all of the bouts and fighters of the tournament.