An opportunity to compete for the inaugural Super Six World Boxing Classic Cup will be on the line when Carl "The Cobra" Froch (27-1, 20 KOs) defends his World Boxing Council (WBC) super middleweight title against former world champion Glen "The Road Warrior" Johnson (51-14-2, 35 KOs) of Miami, Fla., in the last Semifinal of the Super Six World Boxing Classic on Saturday, June 4, live on Showtime ® from Adrian Philipps Ballroom of Atlantic City's Boardwalk Hall.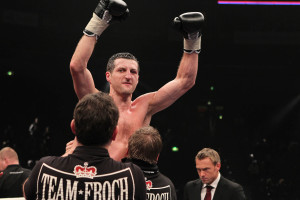 The Froch-Johnson winner will advance to the Final against the victor of the May 14 Semifinal between World Boxing Association (WBA) champion Andre Ward (23-0, 13 KOs) of Oakland, Calif., and former world champion Arthur Abraham (32-2, 26 KOs), of Berlin, Germany, by way of Armenia. Ward-Abraham will be shown live on SHOWTIME (10 p.m. ET/PT, delayed on the West Coast) from The Home Depot Center in Carson, Calif.
Froch and Johnson are seeded Nos. 2 and 3, respectively, entering the Super Six Semifinals. Ward is seeded No. 1, Abraham No. 4.
In his last start on Nov. 27, 2010, the 33-year-old Froch, of Nottingham, England, manufactured perhaps a career-best performance, recapturing the then-vacant WBC 168-pound crown with a one-sided 12-round decision over Abraham in the final Group Stage 3 bout from Helsinki, Finland. There were no knockdowns but Froch dominated en route to tallying up the lopsided scores of 120-108 twice and 119-109.
Froch is 2-1 in the Super Six. In addition to dismantling Abraham, he won a split decision over Andre Dirrell in Group Stage 1 and lost a tight decision – along with the WBC title – to Mikkel  Kessler in back-and-forth Fight of the Year candidate in Group Stage 2.
The Jamaican-born Johnson, a tournament replacement for the injured Mikkel Kessler, advanced with an eighth-round knockout over Allan Green in a Group Stage 3 fight on Nov. 6, 2010, in Las Vegas.
Johnson, 42, a former world light heavyweight champion who was making his first start at 168 pounds in 10 years, was ahead by three points on one of the scorecards and behind by one on the others when a left hook to the body followed by an overhand right to the side of head finished Green at 0:36 in the eighth.
Check out the full Froch vs. Johnson Preview & Prediction
Following Group Stage 3, Froch called Johnson an "old wise fox" and said he expected nothing less than a strong performance from a "great" fighter like Johnson.
"Glen Johnson is a blue-collar fighter who always gives his best and is a gentleman outside of the ring," said Froch. "He commands respect and I give him respect."
And the respect is mutual. Johnson offered, "The guy is a two-time champion. You do it once then you can say maybe it's a little luck but to do it twice you know he deserved it. I have tremendous respect for Carl Froch."
But the kind words will cease when the bell rings for what should be a fiercely contested 12-round affair. Johnson said of Froch, "I know he has a few weaknesses and I have every intention of exploiting those. I really feel like I'm the favorite right now. I just have to take it one fight at a time."
Froch added, "I don't just plan on beating him, but I plan on halting him in style. Our styles gel very well for a competitive battle for as long as it lasts and I'm looking forward to it. I have a date in the final of the Super Six and I won't be overlooking Johnson in any shape or form – which will spell bad news for Glen.
"It will be another win for the Cobra, maybe by stoppage as I plan on making another big statement for the SHOWTIME fans."
Both fighters hold the tournament in high regard and covet the value of emerging victorious. Froch opined, "I could win this tournament and retire – that's what it means. I can win this and say, 'You know what? I've done it. I don't need to fight anymore.' I wouldn't do that – I've got a couple of years left in me and there's some big fights out there for me – but that's how big this tournament is."
Johnson recalled, "I know when this [tournament] was first put together I remember thinking to myself, 'Man, I wish I was a super middleweight.' But I'm in right now and I'm here to win the entire tournament. I believe I'm in it for a reason and that's to win it."
"Glen Johnson and Carl Froch are two of the most fan friendly fighters in boxing, said promoter Lou DiBella. "Both are proven winners who have earned fans the ole fashioned way, by entertaining fans fight after fight. Glen is known as 'The Road Warrior' because he isn't afraid to go to someone else's turf for a big fight, and Carl's biggest wins have come outside the UK. Everyone knows that both men will leave it all in the ring in Atlantic City for the right to advance to the Super Six final."