Carl Froch and Glen Johnson collide in the semifinals of the World Boxing Classic Super Six super middleweight tournament on May 21. This tournament has experienced its issues, with dropouts, scheduling and site beefs, and the fact that it's probably taking too long to unfold. The fact that Glen Johnson was able to qualify for the semis after only one fight speaks volumes. Nevertheless, the spirit of the tournament is intact. Whoever wins will present a strong case to be called the best super middleweight in the world. Therefore, the stakes are high and should give rise to compelling semifinals and finals matches. The winner of this bout faces the winner of the other semifinal, contested between Andre Ward and Arthur Abraham.
Date: June 4th, 2011
TV: Showtime
Location: Adrian Philipps Ballroom; Atlantic City's Boardwalk Hall
Titles: WBC Super Middleweight Title, Showtime World Boxing Classic Super Six Semifinal Match
Carl Froch, 27-1 (20 KOs), Nottingham, England, WBC Super Middleweight Champion
Vs.
Glen Johnson, 51-14-2 (35 KOs), Miami, Florida
Froch vs. Johnson Preview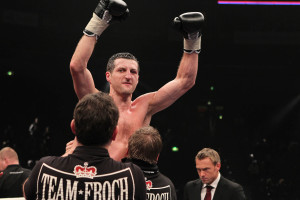 Both men showed themselves to be in excellent form in their last performance. Froch, 33, was dazzling in notching his career-best showing with a shutout decision over Abraham. Johnson also impressed, as he TKO'd Allan Green in his only tournament bout. Whereas other fighters in the tournament flattened out, Froch and Johnson appear to be peaking at just the right time.
Styles
Carl Froch: Still an aggressive brawler, but depending more on some new wrinkles, as well. Seems to have relied more on timing in recent showings, allowing him to bring his underrated jab and long-range punching into play. Looks to pay opponents back immediately when tagged, illustrating his fighting spirit and doggedness. A tough guy.
Glen Johnson: A swarming battler who tries to overwhelm foes with a high workrate and a rugged imperturbability that has seen him survive the world class ranks of the sport for the past 15 years. Works the body well and tries to take opponents into the deep end before drowning them.
Experience
Carl Froch: Turned pro a bit late at 25. Nothing atypical about his rise to the top of the division. Beat some demanding domestic opposition before graduating to the world-class ranks by beating Jean Pascal for the vacant WBC crown in December 2008. In last 5 fights, shows he belongs squarely at the top of the jam-packed 168-pound class.
Glen Johnson: Nothing typical about the trajectory of one of boxing's strangest careers. Was 32-0 when given a shot at middleweight champ Bernard Hopkins, which he lost by TKO in 11 rounds—his only career loss by stoppage. Went 6-9 in his next 15 fights. Scratched and clawed his way into contention at 175, but was still considered an afterthought when he was served up as an apparent get-well opponent for Roy Jones, Jr. Shocking KO of Jones, Jr., followed by win over champ Antonio Tarver earned him 2004 Fighter of the Year Award—capping off one of the sport's great comebacks. Over the past 5 years, has won some and lost some to boxing's best light heavyweights.
Form
Carl Froch: No current super middleweights can really compete with his resume over the past 5 fights. Went 4-1 against Jean Pascal, Jermain Taylor, Andre Dirrell, Mikkel Kessler, and Arthur Abraham. Close loss to Kessler in Denmark only career setback. Fighting as well as he ever has. Dominance he showed against the favored Abraham was truly startling.
Glen Johnson: Appeared to be waning after clear losses to Chad Dawson in their rematch and a punishing loss to Tavoris Cloud. Still showed some flashes of his peak form in knocking out top contender Yusaf Mack a year ago. Really put it together in his Super Six debut and first fight at 168 since 2000, when he dominated Allan Green en route to an 8th-round TKO.
Questions and Issues
Carl Froch: Will Johnson's combination of ruggedness and high-volume punching provide Froch with a stylistic problem? Will he be able to keep Johnson at arm's length. After a demanding five-fight stretch, is Froch still fresh? Is he capable of bringing to the table the same level of menace and skill that recent conquerors of Johnson (Dawson, Cloud) were able to generate? Will he be able to duplicate the phenomenal level of concentration he showed against Abraham? Or was he more leery of Abraham's one-punch power, which will be less of a concern in this fight? Will his power be enough to hurt Johnson or at least stem his pursuit?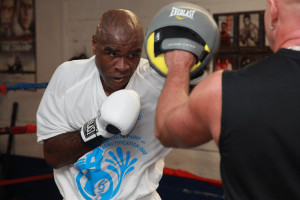 Glen Johnson: Is his win over Allan Green being overrated since Green looked so mediocre in both of his tournament fights? Was his success in his tourney debut partly an illusion? Is the Cloud fight, where he showed signs of erosion, a more accurate indicator? At 42, is he still capable of beating a truly top fighter?
Intangibles
Carl Froch: Coming off a demanding series of fights and draining training camps. Seems to be gaining momentum, however, despite the tough schedule. Might be peaking at just the right time. Seems increasingly in-tune with his identity as a fighter, becoming more versatile, resourceful, and cerebral over time. Has risen to the occasion and now has greatness within his grasp. Though operating at a lower weight than Johnson in his career, might actually be the bigger man.
Glen Johnson: Not stopped since Bernard Hopkins turned the trick a thousand years ago. Refreshed and more lithe at super middleweight. Now an X-factor at 168, whereas he was becoming an afterthought at 175. A boxing anomaly who seems impervious to the effects of aging and ringwear. Facing a do-or-die situation in that he's running out a time to rebuild from losses. Never seems to get any breaks on the scorecards, an issue that could surface against Froch.
Froch vs. Johnson Prediction
The current odds favor Froch at –400, with Johnson getting a +275 quote. This is probably based on Johnson's record and age, as well as Froch's shutdown performance against Abraham, among other things. Being that styles are the predominant factor in determining fight outcomes, there are a lot worse underdog picks than Glen Johnson.
Froch really impressed in his last fight, as he employed great anticipation, long-range punching, and an overall improvement in sharpness to dominate Abraham. Look for him to use some of those same tactics against the pursuing Johnson. If Johnson gets inside a lot, he could muffle Froch's power, while outworking him. Johnson is far more consistent offensively, though not as potentially concussive, than Abraham. It won't be as easy for Froch.
The issue for Froch is that he lacks the size and boxing skill of the precious few who have been successful in holding off Johnson. Chad Dawson managed it somewhat in their rematch, but most have not been able to do it. If that is the case, Froch might have to fight Johnson in his wheelhouse—at close quarters. In a fight waged largely on the inside, it is not difficult to imagine Johnson putting rounds in the bag with more effective and consistent work.
Johnson has dealt with a lot of top fighters, including holding his own in extended sparring with top 168-pounder Lucian Bute. If you consider Bute and Ward to be on the very top-shelf, with Froch a small notch below, maybe Johnson is in good stead in this bout. Froch is probably not capable of generating the kind of consistent firepower of Tavoris Cloud, who couldn't stop Johnson. Therefore, Froch might be fighting for points only, since a stoppage seems unlikely.
Nothing is ever black and white, especially in boxing. Froch and Johnson will fight at both close and long range. The action will be pretty even, as is the case in most of Johnson's big fights. Look for Froch to have some success popping Johnson as "The Road Warrior" advances. If he can hold his own on the inside, not get smothered, and surge a bit at the end against the aging Johnson, he should be able to bag 7-8 rounds en route to a tight decision win that is going to be a lot more difficult than people think.
Prediction: Carl Froch wins by majority decision.