Tommy Fury has dismissed fears that the magnitude of the occasion will get to him when he faces Jake Paul.
Fury and Paul will finally settle their long-standing grudge when they meet in a highly-anticipated showdown in Saudi Arabia on February 26.
The 23-year-old will headline a pay-per-view event for the first time in his professional career, whilst Paul is the star attraction of a pay-per-view card for the fifth consecutive time.
Despite this, 'TNT' has allayed those concerns and believes his experience of fighting on the undercard of his brother Tyson Fury's sold-out Wembley Stadium clash with Dillian Whyte in April, has prepared him for this assignment against 'The Problem Child'.
"The magnitude of what event in my eyes?" Fury told BBTV.
"I've boxed at Wembley. That was a big thing for me.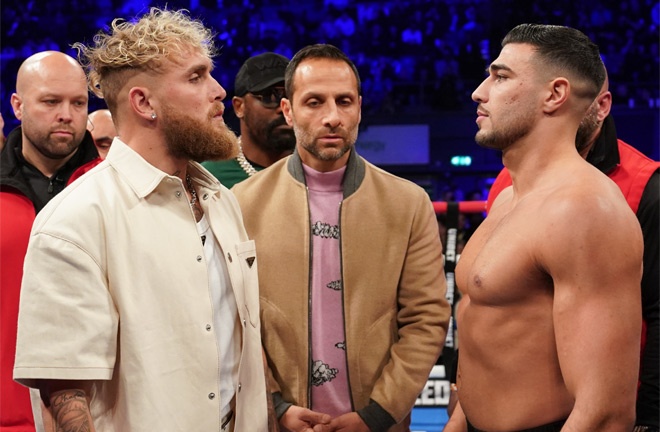 "I think there was like 45,000-50,000 people when I fought, because it was sold out there was like 94,000.
"So boxing in front of 50,000, It's not going to be 50,000 in Saudi.
"What else? I've boxed in Cleveland, that was a full house.
"It's always a big pressure event when I'm involved, because of the following I've got, the last name that I've got.
"It's not like they're just little fights and this is a big one, they're all big fights.
"At the end of the day, I'm not fighting a Mike Tyson, I'm fighting a fool.
"A man who is very delusional, but when he gets cracked on the chin proper, in 10oz gloves and he sees a blue flash go against his eye and he's got nowhere to run, nowhere to hide, he's in trouble."
The pair are set to finally meet after two previous cancelled fights.
Paul, who was ringside in Dubai in November for Fury's exhibition with Rolly Lambert, will silence the critics who have dismissed his six-fight undefeated record having not fought a recognised professional boxer, with his last outing a points win over UFC legend Anderson Silva in October.
His British rival has promised to end his career when they meet in Riyadh.
"Tune in February 26 to see your man get knocked spark out," he added in a message to Paul's supporters.
"I guarantee after February 26 he will need ever talk about a professional boxer ever again.
"There will be no Canelo's, there will be no nothing, there will be no world titles, it'll all be over and I promise you that now.
"Just as Tyson said to you all that he's going to beat Klitschko the first time, I'm saying it to you all now, Jake Paul is finished."