The Gypsy King Tyson Fury (25-0, 18 KOs) will make his long awaited return to the ring, this Saturday night (9th June), as the former heavyweight champion takes on Sefer Seferi (23-01, 21 KOs) in Manchester, at The Manchester Arena live on BT Sport.
The former champion has not fought since claiming the IBF, WBA and WBO titles from Klitschko on a memorial night, where he entered the history books back in November 2015. Fury is widely considered one of the finest boxers of his generation.
Furthermore, having been away two years and eight months away from the sport, it will be interesting to see if Tyson Fury can live up to his name once again. There will be questions from his critics that will need to be answered come Saturday night.
For instance, will we see the old classy Tyson Fury or will the two years out of the ring come to haunt him? It will certainly be interesting to see how Tyson Fury shapes up for his first fight in over two years.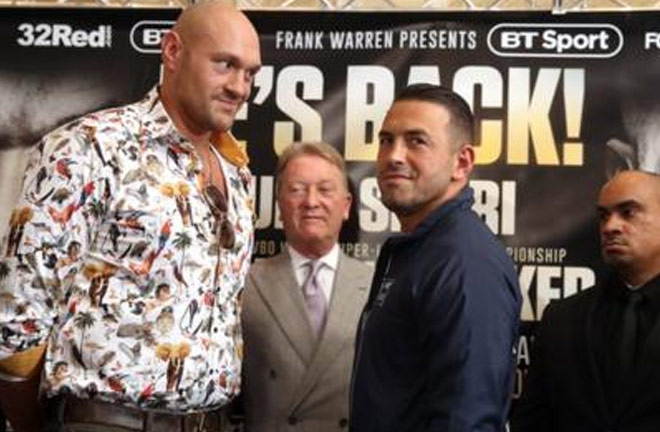 During the Press Conference Fury said:
"I look at Sefer like I look at Wladimir Klitschko, Deontay Wilder, Anthony Joshua, anybody. He's a dangerous puncher.

I could have picked someone a lot easier than Sefer; someone to knock out in a round. But I need rounds."
Seferi says he has "come to win" but described Fury as "one of the best talents of the 21st century".
Prediction 
It has been argued that this fight is a mismatch and is a walk in the park for Tyson Fury. I personally feel Seferi does not stand a chance of winning this fight.
According to Boxrec, his record appears to show that Seferi has not fought anyone half decent. The 39-year-old is almost a foot shorter and roughly five stone lighter than Fury.
Furthermore, I can see Tyson Fury ending this fight within the first five rounds. However, from what Tyson Fury has been saying prior to this fight he needs rounds. Therefore, I would not be surprised if Fury sees this fight as a sparring session by going into the latter rounds to shake of any cobwebs. Moreover, during the public workout, Fury demonstrated his velocious hand speed and combinations, which I believe Seferi will struggle to cope with on the night.
"I could have picked someone a lot easier. But I need plenty of rounds. I have been out nearly a thousand days. I know he is tough, has a lion's heart and will come to win."
Although, I can only see this fight going one way. I personally feel this is a payday for Sefer Seferi and his objective is to stay in this fight for as long as possible. Overall, the 39 year-old will not cause any real threat to the Gypsy king.
What are your thoughts, let us know in the comment section below.