Previewing a Potential Wilder vs. Joshua Heavyweight Showdown:
It's no secret the Heavyweight division has been in desperate need of new blood for some time. It's not Wladimir Klitschko's fault that every next-best-yet challenger, whether it's Kubrat Pulev, Alexander Povetkin or David Haye, puts on a pitiful showing against him. Yet, the division's lack of excitement reflects poorly on Klitschko, whether justifiably or not, and it also hurts the entire sport.
Good thing there are two absolute killers out there on a collision course for an epic championship match — Deontay Wilder and Anthony Joshua.
Wilder vs. Joshua – The Background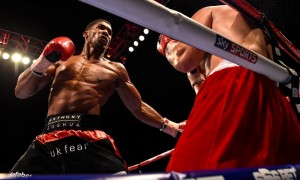 Wilder, "The Bronze Bomber", won a surprise bronze medal at the 2008 Beijing Olympics. He was the only member of the USA Boxing team to medal there, and the last male medalist for the United States in boxing. Nearly a complete novice at the time, he got by on insane, innate athleticism and freakish size.
Turning pro, he spent the first four to five years of his career simply learning how to fight. It's hard to gain much experience when a combined 32 fighters only net you 58 rounds in the ring, after all. Wilder has compiled a ridiculous 32-0 ledger with 32 knockouts, and now is set to face Bermane Stiverne in a vacant title [but definitely not a championship] showdown.
Joshua, on the other hand, won a much-more expected Olympic gold at London 2012 to the delight of his home-country fans. Still, it must be said the win wasn't a foregone conclusion, he had to unseat the reigning Olympic champ, Roberto Cammarelle.
Turning pro, he has blasted through his first 10 opponents, improving to a perfect 10-0. With a far superior skill-set and background to his credit, Joshua has begun his gradual climb up the ladder much quicker than did Wilder.
Let's sum up the match like this:
[checklist]
Wilder stands 6-feet 6.5-inches tall, with an 83-inch reach.
Joshua stands 6-feet 6-inches tall, with an 83-inch.
Combined, they're 42-0, with 42 knockouts.
[/checklist]
How Will Their Paths Cross?
As opposed to say, Guillermo Rigondeaux vs. Vasyl Lomachenko, a Wilder vs. Joshua fight needs more time to develop. I'd wager we're looking at fall 2016 at the soonest, giving enough time for Joshua to continue developing, while Wilder enjoys his new-found status as an American Heavyweight champion.
Of course, Wilder has the not so small matter of Stiverne to deal with at the start of 2015, and from there, likely Bryant Jennings. He may even want to move full bore into Klitschko, although his team would be ill-advised to seek that route right away.
Joshua has plenty of seasoning to obtain. Luckily, the British and European Heavyweight circuit has plenty of fodder for him. He can feast upon Britain's former phenom, David Price, eventually moving upwards through the likes of Dereck Chisora, and even Tyson Fury, by that time fresh off his own defeat to Klitschko.
Let's imagine Wilder survives Stiverne and Jennings, and Joshua advances from Price to Chisora to Fury, winning at each juncture. Now, let's say they both not only continue winning, but continue knocking everybody out.
Joshua could improve to maybe 20-0 with 20 KOs by that time, and Wilder could hum along to maybe 35-0 with 35 KOs. That's a combined 55-0, 55 knockouts, an absolutely unheard of pairing of records and knockout percentages.
How Would Wilder vs. Joshua Play Out?
Wilder and Joshua both find themselves in the unique position of having their size and strength negated in this match-up. They're physical equals, and they're unused to having to size up fighters built like they are.
I'd wager that while Wilder is the better pure athletic specimen, by a narrow margin, Joshua is the better craftsman and more finely tuned instrument by a much wider margin. Wilder with slightly more explosive power, Joshua's power more supremely smoothed and honed. In such a case, skill and discipline often triumph over raw talent.
Of course, the big unknown is how either man holds up to a shot from the other. We wouldn't have the answer for that until fight night. And while everyone has a plan until they get punched in the face, I'll take Joshua to score a KO8 win over Wilder in an all-time hard-hitting Heavyweight slug-fest.
With Wladimir Klitschko either teetering on the edge of retirement, or already leisurely enjoying himself there, this fight would beckon him back to center stage for one last hurrah. Could Klitschko take his legacy to an entirely new level by knocking out the new kingpin before he even sits firmly upon the throne? Or will Joshua's legacy begin in earnest in the way of so many previous Heavyweight greats, by destroying the last generation's champ in unrelenting fashion? That's a discussion for another day. Call me in two years.