Previewing a Super Fight Round Robin – Santa Cruz vs. Frampton vs. Quigg:
Leo Santa Cruz, Carl Frampton and Scott Quigg are three of the world's top Super Bantamweights. Outside of Guillermo Rigondeaux, there is no one better in the division. All three are still relatively young and look set to enjoy long, successful careers in the sport. Could several potential super-fights between the three be on the not-to-distant horizon?
Santa Cruz, Frampton & Quigg – The Background: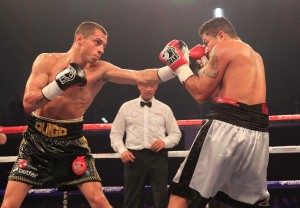 All three can call themselves alphabet belt-holders, but they are all at slightly different respective stages in their careers.
Santa Cruz was once a Bantamweight, and indeed held an alphabet strap there as well. His long frame was made for a quick move up in weight, however, and his aggressive fighting style, charm and promotional backing means the 26 year old seems set for stardom.
Frampton has twice defeated Kiko Martinez, the most recent of which earned him an alphabet title two months ago. Backed by Irish legend Barry McGuigan, Frampton has been nurturing a large following of loyal supporters and hence has a high profile in his Belfast hometown.
Quigg's title status is messier than usual, with typical alphabet-body nonsense giving him 'regular' status and Rigondeaux 'super' status, whatever the hell that means. He has the poorest record of the three, but that's not for a lack of trying to get top tier opponents.
How Will Their Paths Cross?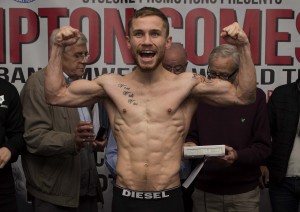 At this point, Frampton vs. Quigg is a no-brainer. Both fighters appear on Sky Sports and thus promotional conflicts that would previously have stunted opportunity for the fight to happen no longer exist.
Santa Cruz has made the right noises about fighting both Frampton and Quigg. The Mexican is looking for big fights at 122 lbs and there do not appear to be antagonisms between Santa Cruz' team and their UK counterparts. A fight with Rigondeaux is the only other option, but that is much higher risk, and much lower reward.
In short, the most viable fights for Santa Cruz, Frampton and Quigg are with one another.
Frampton vs. Quigg is already a super fight in the UK. Both have the perceived prestige of owning alphabet belts and they have traded barbs in public televised appearances. When one fights, the other talks, and a fight between the two rivals is highly sought after.
A fight between Santa Cruz and either of the above may not have the same level of bad blood or pride on the line, but their fighting styles would gel well. Santa Cruz throws punches at a high output level that combined with the boxer-puncher style of Frampton or the more assertive style of Quigg, would make for great entertainment.
Added to that, Santa Cruz is highly respected in the US and has a growing reputation there. Hypothetically, were he to fight the winner of a Frampton vs. Quigg grudge match, that fight would have even greater ramifications and thus would be a huge fight in both the UK and the US.
How Would the Fights Play Out?
Frampton's combination of boxing and punching would spell trouble for Quigg, who is a strong hitter but does not possess the same footwork, head movement or combination punching as the Northern Irishman.
Assuming Santa Cruz fought the winner, a fight between he and Frampton would play out as a classic styles clash. Santa Cruz's forward motion would put great pressure on the smaller man, and Frampton would have to pick his moments to land clean.
Over the distance Frampton would do just enough to outpoint the Mexican, but there would be substantial calls for a rematch, perhaps giving birth to a great new rivalry in the sport.