In what's sure to be an early nominee for 2012 Fight of the Year, boxing fans will be treated to Yuriorkis Gamboa vs. Brandon Rios on April 14th. The fight will be televised on HBO, and will be contested at the lightweight limit of 135 lbs. That means Gamboa will be jumping up two weight classes from featherweight for the bout, and Rios will be forced to make weight at lightweight instead of moving up, something he has had well-documented struggles with.
The fact that Rios will need to make weight should, potentially, negate the size difference between the two men. Still, on fight night, Rios could end up having a 15 pound advantage in the ring, nothing to dismiss, particularly as Gamboa has been competing against featherweights, and has a tendency to get caught and tagged in his fights.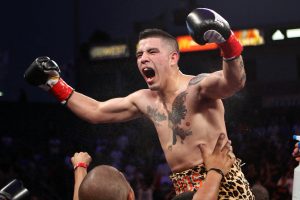 Gamboa will be bringing all of the speed and skill into the ring with him, as well as his status as the #7 pound for pound boxer in the world. Rios of course is the top dog at lightweight, but lost his title on the scale in his last fight after being unable to make the 135 limit. He'll try to answer Gamboa's sheer speed and athleticism with power, dogged determination and come-forward, in-your-face aggression.
Both Gamboa and Rios are undefeated, so somebody's 0 will have to go. Rios is 29-0-1 with 22 KOs, and Gamboa is 21-0 with 16 KOs.
This is the kind of match-up that can really stir things up, and it's a great bout to get excited for. Will Gamboa be able to jump two weight classes and meet the division's best fighter, taking him out in the process, in very Shane Mosley-esque fashion against Oscar De La Hoya? Will Rios be able to cut weight without problems, and wear down Gamboa as he wears down everyone else?
We'll see in April, and this fight fan will be eager to see how it plays out. Gamboa vs. Rios has action and fireworks written all over it, and it's the kind of hard to predict, risky, top-tier fight that we need more of in this sport.
Here are some opening quotes from the promoters:
"Rios and Gamboa are two young and hungry fighters in their prime looking to make a leap to stardom," said Todd duBoef, president of Top Rank.
"Gamboa has been constantly referred to as a 'rising Cuban star' throughout his career.  But on April 14, the word 'rising' will finally be eliminated.  Gamboa will be a superstar," said Ahmet Öner, president of Arena Box US.  "Gamboa is so special and though he has been fighting at 126 pounds, 135 pounds is where he belongs.  He will be so much stronger fighting at lightweight."
"Brandon Rios versus Yuriorkis Gamboa is a spectacular fight and we're excited to present this showdown live on HBO World Championship Boxing," said Kery Davis, Senior Vice President, Programming, HBO Sports. "Both fighters deserve recognition for stepping up and saying 'let's do it.' "