After earning a majority decision over Alejandro Lopez (20-2, 7KOs) following a two year hiatus from the sport last February, San Marcos, CA featherweight Aaron Garcia (10-1-2, 2KOs) is in high demand to test up and coming southern California prospects like Abraham "Chamaco" Lopez (13-0, 10KOs) in an eight rounder on Friday, April 29th, in Ontario, CA.  The difference is, Garcia is not ready to be the stepping stone.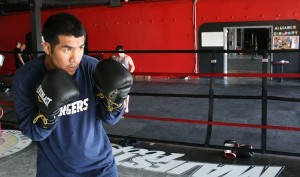 "If they think I am a test for him, they have another thing coming," Garcia said after an intense session at the Alliance Training Center in Chula Vista, CA.  "I am hungry, I am a reborn Aaron Garcia.  I have a whole new team around me and I am going to show these people who Aaron Garcia really is come April 29th."
After putting together one of the most decorated amateur careers in recent years where he beat the likes of Vicente Escobedo, Francisco "Panchito" Bojado, Rocky Juarez and Brandon Rios among others, Garcia was a top prospect who went pro under the Golden Boy Promotions banner in '04.  As a result, Garcia knows where Lopez stands in his career, "I have been there, done that, I know exactly where he is at and the pressure is on him to perform."
Vince Parra, Garcia's manager and trainer, knows that Garcia's next assignment is not an easy one but with his fighter's new found excitement for the sport, he will be more than ready to pull off the upset.
"Its a tough fight but I see a lot of skill in Aaron. Lopez is a tough fighter, undefeated, great amateur background but I see some things that we will capitalize on," Parra said.  "Expect to see ring generalship and a man technically take another man apart with skill."
"You are going to see a world class featherweight.  You are going to see a real exciting Aaron Garcia and a kid in Abraham Lopez way over his head, no disrespect to him, he is a tough kid.  On April 29th he is going to be in there with to me, one of the top featherweights in the world, he has just been away for a while."
The Garcia-Lopez eight round featherweight bout will be part of Thompson Boxing Promotions' "New Blood" Series on Friday, April 29th at the DoubleTree Hotel in Ontario, CA.