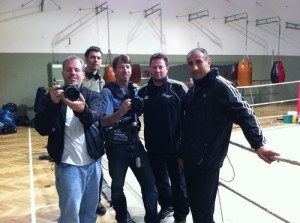 King Arthur Abraham is convinced that the huge Armenian community in California will lift him to victory in his Super Six World Boxing Classic semi-final bout on May 14. The 31-year-old (32-2, 26 KOs), who takes on undefeated WBA Super-Middleweight Champion Andre Ward (23-0, 13 KOs) at The Home Depot Center, is currently shaping up on Usedom, a small German island in the Baltic Sea. Last week, SHOWTIME's Fight Camp 360 crew caught up with the former tournament point leader in his training camp.
"I am looking forward to returning to America and clinch a big victory on May 14," King Arthur said. "Los Angeles has a huge Armenian community and I intend to put on a great fight for my loyal fans. Their passionate support really means a lot to me. It will give me additional motivation. Ward is a strong fighter but with the help of my countrymen I will defeat him."
Fans can purchase tickets at all Ticketmaster outlets and online at www.ticketmaster.com as well as The Home Depot Center Box Office (open Monday through Friday, 10 a.m. to 6 p.m.). Groups of 10 or more can purchase tickets by calling 1-877-234-8425. Tickets are available for as low as $25, with VIP floor seats priced at $200. Other tickets in the 8,000-seat outdoor stadium at The Home Depot Center are available at $50 and $100.