Curtis Stevens has officially punched his way into a middleweight title fight against the dangerous Gennady "GGG" Golovkin.
According to multiple reports, the Golovkin vs. Stevens fight will take place on November 2 at the Theater at Madison Square Garden in New York City, NY, with the fight to be televised on HBO. Apparently the sides have finally agreed to terms, although the ink isn't on the paper yet.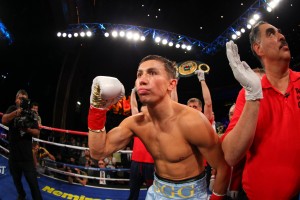 Golovkin, 27-0 with 24 KOs, and the current WBA titleholder, is not only regarded as one of the best middleweights in the world, but also one of the sport's hardest punchers.
Stevens, meanwhile, finally broke through into the bottom of our top 10 in the middleweight division. He has some pretty good power himself, although he doesn't have the complete tool set and arsenal that Golovkin has.
It was highly publicized that should Stevens win his last fight, and look good in the process, he could be in the running for a Golovkin match next. He has enjoyed a higher profile with the help of several TV appearances on NBC Sports Fight Night cards, and his KO power brings in some fan interest as well.
As opposed to some other middleweights, Stevens and his team were more than willing to be lined up against Golovkin. They did hold out for some more money though, which had entangled the negotiations a bit.
Ultimately, Golovkin vs. Stevens is a fairly fun fight, although you should expect Golovkin to dominate.