This past weekend there was loads of great action for fight fans, highlighted by Sergey Kovalev's annihilation of Nathan Cleverly to capture a light heavyweight title strap, and Darren Barker's game title-winning effort over Daniel Geale. That means it's time for rankings updates!
We have updated the top 10 in the middleweight division and the top 10 in the light heavyweight division to keep up with these results and all of the latest action and events. Take a look.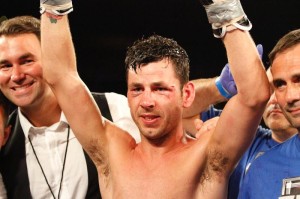 ProBoxing-Fans.com already ranked Sergey Kovalev higher than Nathan Cleverly at 175 lbs before their bout, despite Cleverly's status as a titleholder. That was certainly proven to be a correct positioning, as Kovalev blasted Cleverly out of there. But how high does he move on the list as a result, and how far does Cleverly fall?
Barker finally broke through with a world title, surviving a scare midway through his bout to defeat Daniel Geale. So what does the top 10 at middleweight look like now with the win, and the man who previously bested him, Sergio Martinez, out of action with another extended layoff due to injury?
These are just a few of the major fights and events that our latest divisional rankings reflect, and of course there has been plenty more movement with other fighters in action as well.
Take a look at the new top 10s and share your thoughts on what you think, and who you think should be ranked where.