Philadelphia has long boasted being the birthplace or at least the adopted home of a host of outstanding fighters, from Joe Frazier to Bernard Hopkins to Danny Garcia, and the latest looking to join that lineage, junior middleweight Gabriel Rosado. Despite earning a shot at IBF-titleholder Cornelius Bundrage, the young Philadelphian is moving up in weight to face WBA middleweight champ Gennady Golovkin on January 19 at Madison Square Garden for both the WBA and IBO straps.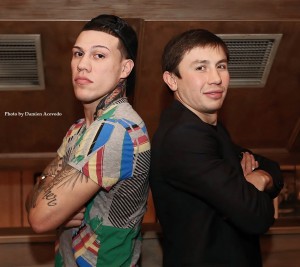 The Golovkin-Rosado bout is the second of three championship matches on the January 19 MSG card.  The opener will feature super featherweight Roman Martinez defending his WBO title for the first time, against Juan Carlos Burgos, while featherweight Orlando Salido will defend his WBO crown against Miguel Angel Garcia in the main bout.
"This is what I have worked hard for, to be a world champion," says Rosado.  "I dare to be great."
Eighth-ranked Rosado, 26 (21-5-0, 13 KOs), turned pro in 2006.  Since losing to Derek Ennis by decision in 2010, he's won seven consecutive fights, five by TKO.
His most recent win, in September, was the title eliminator for the IBF junior-middleweight championship — Rosado stopped Charles Whittaker via 10th-round TKO, thus bringing to an end Whittaker's seven-year and 14-win streak.  His two other fights this year were wins over Jesus Soto Karass, via fifth-round TKO in January, and Sechew Powell, via ninth-round TKO in June.
Like his upcoming opponent, third-ranked Golovkin, 30 (24-0-0, 21 KOs), had his pro debut six years ago.  His most recent victory, in September, was a fifth-round TKO of Grzegorz Proksa.  He stopped Makoto Fuchigami in May by third-round TKO.  Indeed, undefeated Golovkin's last 11 wins were by KO or TKO (he hasn't won by mere decision in four years).
As Rosado has astutely observed:  "Golovkin is one of those fighters that nobody wants to fight."
The cream-of-the-crop of the division doesn't seem to be exactly keen on taking the Kazakh up on a fight. I'm thinking of such formidable middleweights as second-ranked and IBF champ Daniel Geale (whom Golovkin defeated as an amateur), seventh-ranked and WBO champ Peter Quillin, and eighth-ranked Felix Sturm.  Their wariness is understandable, and on a par with my skepticism — I'm confident Golovkin can beat them all.
Golovkin vs. Rosado Prediction
Rosado deserves tremendous kudos for having the courage to enter where others fear to tread.  He's also savvy.  The HBO-televised match will gain enormous exposure (as well as money) for "King".  How "GGG" benefits is considerably less clear — fighting a jumped-up junior middleweight (regardless of his attributes) does precious little for the Kazakh's stature.  Moreover, it in no way helps him attain that which I'm sure he can — the unified, undisputed Middleweight Championship of the World.
"It's a difficult fight," says the always gracious Kazakh of his upcoming match.  "Gabriel is young, he's strong and a little taller than me.  He's a good man."
And there's no reason to doubt Golovkin's sincerity.  Rosado is indeed a a good man, a good boxer, and with no small amount of skill and intestinal fortitude.  That said, I don't believe for one second that he has any more chance against Golovkin than he had against Alfredo Angulo, who TKO'd him in the second three years ago.
In fact, I can't think of anyone (with the possible exception of Sergio Martinez) who could take Golovkin, the middleweight I consider a new Tony Zale — a "Man of Steel" of and for our time.
Prediction: Gennady Golovkin by fourth-round TKO