In this week's three punch combo I will first state why I now think the long overdue bout between Manny Pacquiao and Floyd Mayweather Jr. may finally take place.  Next, I will state my reasons why Amir Khan should not be written off by the boxing community.  And finally, I'll take a closer look at Bryant Jennings following his knockout victory on Saturday night over Bowie Tupou.
Pacquiao vs. Mayweather?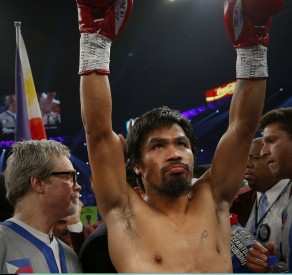 Juan Manuel Marquez scored a stunning 6th round knockout over Manny Pacquiao on Saturday night.  In my opinion, this knockout loss for Pacquiao may actually, finally,set up the long anticipated bout with Floyd Mayweather Jr.
So why do I think this fight will finally be made?  First, let's take a look at why it has not been made so far.  The fight came close to being made a couple years ago but in the end there was a hold up over the pre-fight drug testing procedure.
Pacquiao did not want to adhere to the testing Mayweather was requesting.  But Pacquiao has since stated on multiple occasions that he will agree to whatever testing requirements Mayweather requires.
After that was overcome, the next issue was money.  So let's look at this a little closer.  There is an old saying in boxing that there are two ways to avoid a fight.  The first is to just flat out state that you do not want that particular fight.  And the second way is to make monetary demands that are so high that you essentially price yourself out of the fight.
By all accounts Mayweather priced himself out of the Pacquiao fight by making unreasonable demands.  The terms he proposed he knew the Pacquiao camp would never accept.
This fight was never made because Mayweather saw there was real danger in fighting Pacquiao.  Instead, he chose to fight other opponents who posed much less risk but yet still allowed him to collect big pay-per-view paydays.
But recently, Pacquiao began showing signs of vulnerability.  He wasn't just steamrolling through opponents like he had been in past.  And now he suffered a devastating knockout loss to his longtime nemesis in Marquez.
So now the risk is much less for Mayweather.  And there still is big money to be made from the bout.  And this is why it will finally happen.  My guess is that both Mayweather and Pacquiao have at least one more fight prior to getting in the ring with each other.  And then look for the fight we have all wanted to be made either late in 2013 or early in 2014.
Amir Khan's Comeback
Amir Khan faces the undefeated Carlos Molina on Saturday in Los Angeles.  The bout marks the first time Khan has fought since his devastating knockout loss to Danny Garcia in July.
There were many in the boxing community who wrote off Khan following his loss to Garcia.  This was the third loss of his career and second time he lost by knockout.  Many believe his chin simply will not hold up against the better fighters in the world.   However, I believe Khan's career is still destined for stardom.
Khan possesses the skill sets that many of the elite fighters in the world possess.  He has very fast hands.  When he throws in combination he often times can get off four or five shots before his opponents are able to react.  And his punches are very heavy handed and do damage to his foes.
Khan is also very underrated as a boxer.  He is a very gifted athlete and has excellent lateral movement.  And his left jab is thrown with conviction and power.  He can beat many fighters using just the jab and good lateral movement (remember he carried the first two rounds handily against Garcia doing such).
So what about the chin?  I remember when another gifted boxer named Wladimir Klitschko was knocked out in April 2004 by Lamon Brewster.  This marked the third time in his career that Klitschko had lost by knockout.  And he was largely written off in the sport.  Well his career since then has turned out to be pretty okay.  And don't forget Lennox Lewis.  He suffered two devastating knockout losses.  But yet things worked out okay for him as well.
The history of boxing has taught us that on any given day anyone can be caught with a good shot.  And if someone is caught by a hard enough shot they can be knocked out — just look at Manny Pacquiao this weekend.  It happens in boxing.  My point is just because someone has been caught in a couple fights does not mean that their career as a prominent fighter is over.
Amir Khan was caught in a couple fights.  And he has some things to work on defensively.  But he is extremely talented and has the skill sets that we find in many of the elite fighters in the sport.  I am confident that Khan is going to bounce back from those knockout losses and one day find himself considered to be a top pound for pound fighter in the sport.
Bryant Jennings
Bryant Jennings knocked out Bowie Tupou with a right uppercut in round 5 of their heavyweight bout on Saturday night in Philadelphia.  The win cemented an amazing year for Jennings who rose from obscurity to become one of the top Heavyweight prospects in the sport.
Jennings faced real adversity for the first time in his career when Tupou dropped him in the 3rd round with an overhand right (this was not ruled a knock down by the referee but replays showed it should have been).  Jennings was legitimately hurt but showed heart in fighting through the adversity.
Though Jennings had a tremendous year, his management team would be wise to move him cautiously over the next year.  He does have talent but is still relatively new to boxing.  He only had 17 amateur fights and is literally learning on the job each time he steps in the ring as a pro.
The last time we saw this kind of story with a Heavyweight prospect was with Seth Mitchell.  And he of course was knocked out in surprising fashion by Johnathon Banks.  In the fight before, he was hurt by Chazz Witherspoon but able to come back and get the knockout victory.
The parallels between Mitchell and Jennings are obvious.  And this is exactly why Jennings' team needs to learn from what happened to Seth Mitchell.  Jennings still needs to fine tune his craft and gain more experience before stepping in with the division's elite.  And if he gets the right training and is moved along correctly, he does have the talent to one day make some noise in the Heavyweight division.
Comments
comments