On Saturday night, live from the MGM Grand at Foxwoods, Gennady "GGG" Golovkin looked to take out another challenger, as he squared off against Matthew "Mack the Knife" Macklin. Would Golovkin continue his string of impressive, dominant performances? Or would Macklin finally break through against elite competition and grab a championship?
Right here, find our live and ongoing coverage of the Golovkin vs. Macklin results, and the entire undercard, also featuring Thomas Oosthuizen vs. Brandon Gonzales, and Willie Nelson vs. Luciano Cuello.
Golovkin vs. Macklin Results – Scorecard
| | | | | | | | | | | | | | |
| --- | --- | --- | --- | --- | --- | --- | --- | --- | --- | --- | --- | --- | --- |
| Round | 1 | 2 | 3 | 4 | 5 | 6 | 7 | 8 | 9 | 10 | 11 | 12 | Total |
| Gennady Golovkin | 10 | 10 | – | – | – | – | – | – | – | – | – | – | 20 |
| Matthew Macklin | 9 | 9 | – | – | – | – | – | – | – | – | – | – | 18 |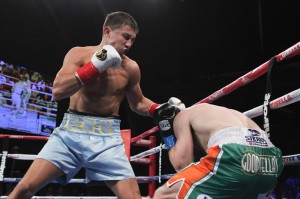 Golovkin vs. Macklin Round by Round Results
Rd 1: Golovkin pursuing with Macklin doing a lot of moving. Macklin seeming highly aware of Golovkin's power potential. Golovkin calmly stalks Macklin, whose eyes seem to indicate panic. A left hook knock Macklin to ropes at end of round.
Rd 2: Macklin looking a bit uncomfortable in the role of mover. Golovkin doing damage every time he unloads. Golovkin landing jabs and Macklin in survival mode at this point, too concerned with incoming fire to mount an offense. Macklin tries to trade at end of round and lands a right hand. Macklin cut above left eye and blood beginning to show.
Rd 3: Big body shots by Golovkin. Macklin landing a little better, which only draws the ire of Golovkin. Almost at the midway point of the round, a sizzling left hook to the body puts Macklin down. Writhing in pain, he is unable to rise before referee Eddie Cotton'
s count of ten.
Time was 1:22. Mackin, now 29-5 (20 KOs), remained on the canvas for a few minutes, but was OK. Great performance by Golovkin, who moves to 27-0 (24 KOs). This was his first win over a fighter from the higher reaches of the middleweight rankings and he dispatched of him easily. Golovkin has incredible power and it's difficult to imagine any middleweight withstanding the powerful shot in which he laid his opponent to rest tonight. Macklin, while not a world-beater, had always shown himself to be a capable and durable battler against the best in the division. Tonight, he was blown out of the water. Golovkin, 31, is really something else and we will hopefully see him in the ring soon against a truly top fighter.
Nelson vs. Cuello
Willie Nelson moved to 21-1-1 (12 KOs) with a unanimous decision over tough battler Luciano Cuello, who falls to 32-3 (16 KOs). It wasn't easy, as Nelson had to call on all his resolve to edge the win out over the game Cuello.
Cuello. whose 2 previous losses were to Saul Alvarez and Julio Cesar Chavez, Jr., had the edge in pro experience, but was dwarfed by the nearly 6'4″ Nelson of Cleveland. Still. the fast hands of Cuello, 152, helped him do well to open the fight. Nelson, 153, however, gets tremendous leverage, and raked Cuello with body shots and right hands. Cuello, 29, looked beleaguered with a minute left in the first. Nelson not afraid to get inside for such an exceptionally tall fighter. Nelson, 26, continued landing hurtful combos in the second. Body shots rained down on Cuello, while the Argentine tried to find his bearings.
Nelson engaged Cuello on the inside and did well, but gave Cuello an in, with Cuello doing his best work of the fight. Cuello let his hands go well in the final minute, with Nelson pawing at a cut over his right eye. By round's end, he was pelting Nelson unrelentingly. Great round for Cuello.
Nelson tried to establish range in the 4th, having moments of success, before falling back in close with the relatively stubby Cuello.The 4th was close, but still a good comeback round for Nelson, which he likely won. Trainer Jack Loew pleaded with his charge Nelson to employ the jab, which he did in the 5th. But Cuello was fighting a determined fight and his effort was hard to repel. Nelson seemed to be consistently fighting an urge to fight Cuello on the inside. But the 5th clearly went his way, giving him 4 out of 5 rounds on the ProBoxing-Fans card.
Nelson again used his legs and reach well in the 6th, with the slick Cuello hanging in there, but not doing enough to gain the upper hand. While Nelson held the edge, his grip on supremacy was always tenuous–due to his opponent's concentrated effort, as well as Nelson's reluctance to stick to his best strategy. Cuello more insistent in the 7th. Nelson stopped moving and that's all it took for Cuello to again start peppering him with shots. A temple shot sent Nelson reeling. Against the ropes, Cuello rattled Nelson. Nelson closed the round better, landing some shots, but is again laying on there on the inside with Cuello.
Nelson engaged Cuello again in the 8th. Nelson did well, but is allowing Cuello to have a chance. Close round, but Nelson's battle-plan seemed to dissolve with each passing round. Give Cuello credit for a pressuring fight, forcing Nelson to stay on-point every second of the round. Better ninth for Nelson, as he got back to the stick. Keeping better range, he was able to stem Cuello's surge.
Big right in the 10th for Cuello. Both exchanged on the inside, with Cuello rattling Nelson! Hooks and uppercuts poured in, with Nelson in survival mode. Both bleeding heavily. Nelson holding as Cuello clubs away with hooks. Nelson hanging in there with his head, but firing back gamely. Nelson's left eye giving him problems. Big exchanging, with Cuello holding an edge. ProBoxing-Fans had it 97-94 Nelson. Scores were 97-93 (twice) and 96-94 for Nelson.
Oosthuizen vs. Gonzales
In a super middleweight bout, Thomas Oosthuizen, 167, and Brandon Gonzalez, 166, fought to a 10-round draw is a see-saw fight. Gonzalez, now 17-0-1 (10 KOs), opened very strongly, before Oosthuizen surged in the final half of the fight to get to even on the scorecards. Good performance for the underdog Gonzalez, who had never been past 8 round. It was a bit of a disappointment for Oosthuizen, 21-0-2 (13 KOs), who was being mentioned as a future foe for Andre Ward.
Oosthuizen is a gigantic super middleweight. At southpaw and 6'4," with a big torso, he is truly a sight to behold. He looks like a cruiserweight. Gonzalez, 29, got off the schneid with a series of sharp shots, once he forged his way inside at the end of the first. Oosthuizen, 25, did well on the outside, but Gonzalez looked sharp when he managed to forge his way inside. More good shots from Gonzalez in the second. The underdog Gonzalez unloaded quick and hurtful combos to punctuate the second.
Gonzalez was fighting in spurts, stymied by the length and movement of Oosthuizen, who was also hesitant due to the explosive potential of Gonzalez. That led to a boxer-puncher matchup where the boxer wasn't very active and the puncher fought 30 seconds a round. Tough fight to watch and harder to score, though Gonzalez appeared to win the 2nd and 3rd.
Oosthuizen landed a few clubbing southpaw lefts in the 4th. Gonzalez was deceptively-clever, alternating well from inside to outside and using angles well. Better action in 4th. Gonzalez peppered Gonzalez on the ropes, snapping his head back with a few shots in the final minute to win the round. The less-experienced Gonzalez looked the more seasoned battler. He was in range to punch or out of range to not get hit by Oosthuizen, while never caught in-between. Still, the 5th was a better round for the South African, though Gonzalez may have edged the round with a crisp final 30 seconds.
The second half of the fight began with Gonzalez again being a master of range. Either he's on the edge of Oosthuizen's firing range or he's inside doing damage. The South African looked confused and wooden, unable to adapt to the surprisingly-slick tactics of Gonzalez. Still, the South African took advantage of Gonzalez taking a rest to perhaps edge the 6th. The 7th saw Oosthuizen opening up and taking the play away from Gonzalez. But when the South African let off the gas pedal, Gonzalez came to life a bit. Oosthuizen had a good 7th.
Gonzalez was more versatile, but Oosthuizen more active with the big southpaw 1-2 during the 7th and 8th rounds. Gonzalez was letting the South African take the play away. Not that the South African was lighting the world on fire, but Gonzalez' offensive output was reduced to isolated spurts. By winning the 8th, the South African pulled even on the ProBoxing-Fans card with 2 rounds remaining. the 4 rounds Oosthuizen was given were closer, however, than the rounds Gonzalez won.
Gonzalez began the 9th round, the first time he had ever been that far, with some better energy. A shot knocked Oosthuizen's head back at the two minute mark. Good work by Gonzalez, with Oosthuizen doing some good body work and landing jabs. A clean right at the end of round 9 may have edged him the round. Nice right by Gonzalez early in the tenth, but Oosthuizen wobbled him with a hook. Gonzalez looked a little ragged as the finish line came into sight. Some nice shots by Oosthuizen with the jab and cross, as he had an excellent 10th. ProBoxing-Fans had it a draw at 95-95. Scores were 98-92 (Gonzalez), 96-94 (Oosthuizen) and 95-95.
—-
Thanks for checking out our live coverage and round by round blog for the entire event, and be sure to check back with us over the coming days for even more aftermath on the Golovkin vs. Macklin results.
Comments
comments