The time is now for Dustin Dirks. The 23-year-old light heavyweight will get a first glimpse at the limelight come November 3. Then he will make his debut as the main support of Marco Huck against Cleiton Conceicao (32) from Brazil, fighting for the WBA Intercontinental Championship. In the main event, WBO cruiserweight king Huck tries to defend his belt for the 10th time against former WBA titlist Firat Arslan in an all-German clash at Gerry Weber Stadium in Halle (Westphalia), Germany.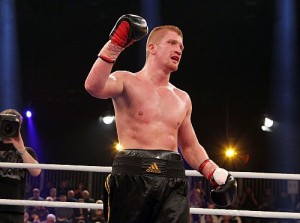 Dirks said he is ready to shine and his record shows that he has every right to be optimistic of winning his title in the professional ranks. "I'm just 23 years of age but I guess it's time to show the world what I'm made of. So this title fight comes around just right."
In his last outing inside the ring, he beat Georgian Sandro Siproshvili. Back then, he showed guts, overcoming a scare in round five, when his opponent went for broke. Still, Dirks stood his ground and got the win by technical K.o. just two stanzas later.
"That was a good experience for me. I showed a lot of heart and finally beat him clearly. I believe that it was also an interesting fight for the crowd to witness," stated the prodigy of coach Otto Ramin.
Nevertheless, the Berlin-native makes his debut in a championship fight, which could go the full distance of twelve rounds. "That's a first for me, but I'm sure to get it done. After all, my coach and I work hard on my strength and stamina. I already proved in sparring to be ready for twelve rounds of action," Dirks expressed with a lot of confidence.