WBO Champion Marco Huck (34-2-1, 25 KOs) has finished his intense preparations on the beautiful Isle of Mallorca, Spain. Yesterday evening the 27-year-old flew back to Germany. Over the last ten days the prodigy of coach Ulli Wegner had been soaking up the sun, but of course his main priority was the training camp ahead of his fight against Firat Arslan (32-5-2, 21 KOs).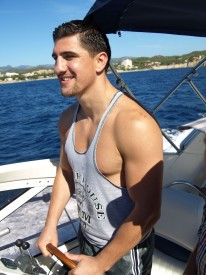 "The Sparring sessions have been really good. I am in great shape," said the champion who steps into the ring at the Gerry Weber Stadium in Halle/Westphalia, Germany on November 3.
Coach Ulli Wegner is also satisfied with the shape of his boxer. "Marco has developed. He is always trying his best to do what I ask him to. The important thing for him is, to stick to the strategy and that is exactly what he is doing right now. That is why he has every reason to be optimistic ahead of the fight against Arslan," said the 70-year-old.
Wegner is particularly pleased by all the support he and his team received from the locals of Mallorca. "The people at our hotel, the Playas Del Rey, always did their best to fulfil every single need of ours. The training facilities at the 'Shinkai' in Santa Ponsa and the TKO Boxing Gym were very good."
Towards the end of their stay, Wegner and his prodigy took the afternoon off and went for a cruise on a luxurious yacht. And "Capt'n" Huck was quick to take charge of the vessel and steered it through the Mediterranean Sea with Germany in his sights. Moreover, back home another camp is awaiting. Right before the bout in Halle/Westphalia, Marco Huck will be finalizing his preparations in the town of Neuruppin.
"Marco has some tough days ahead of him," said Wegner. "The lake of Ruppin offers some excellent surroundings in order to concentrate on the next task."