German Olympic boxer Enrico Kolling is switching to the pros. The 22-year-old, who just got back from the Olympic Games in London, will give his debut on September 15 at the Stechert Arena in Bamberg, Germany. The light heavyweight will join coach Karsten Rower at his gym, and has signed with Team Sauerland as his promoter.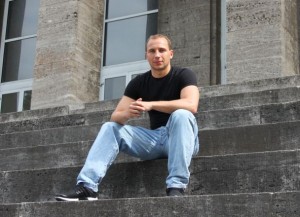 "I am excited," said Kolling. "I have gained a lot of experience throughout of my time as an amateur. Now it is time to take the next step in my career and start a new adventure."
Kolling was just eight years old when he started wearing boxing gloves. "My father took me to my first training session and I just stuck to it", remembers the German. Only two years on, he fought his first fight. Since then, he stepped into the ring on 169 occasions.
During this time he won six German Youth Championships. He also won the silver medal at the U19 World Championships in Mexico as well as the German Championship at senior level in 2009. Since 2010, Kolling has been part of the World Series of Boxing (WSB), followed by this years Olympiad.
"Being part of the Olympic squad was amazing. So many different people and athletes from various cultural backgrounds – it was just great."
And Kolling is hoping to continue where he left off as an amateur. "If possible, I want to take four fights until the end of the year. I want my career to progress step by step. Later on it is all about climbing up in the rankings. But of course it is my main goal to be right up there with the very best."
Sauerland Event is delighted to have captured such a hot prospect. Sporting Director Hagen Doering: "We have signed a boxer who was well trained by Berlin county coach Ralf Dickert. We are expecting a lot from him."
Tickets for the show at the Stechert Arena Bamberg – headlined by the IBF Cruiserweight World Championship between Yoan Pablo Hernandez and Troy Ross – can be purchased at www.eventim.de and www.kartenkiosk-bamberg.de.