In this week's 3 punch combo we will first examine a hypothetical fight between Adrien Broner and Robert Guerrero who traded shots with each other on Twitter last week.  Next we will look ahead to the Antonio DeMarco-John Molina fight in a couple weeks that could contend for the Fight of the Year, and finally, we'll look closer at Carlos Molina who turned in a solid performance this past Friday.
Broner-Guerrero Twitter Battle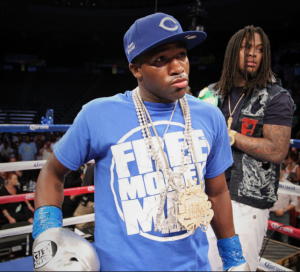 This past week, Adrien Broner and Robert Guerrero waged a war of words on Twitter.  The Twitter feud, which has now become a boxing tradition of sorts, had me consider what would actually happen if the two were to step in the ring together.  In my opinion, such a match up would be very beneficial to Broner and work to the detriment of Guerrero.
At this stage in his career, Broner needs to step in the ring with a name opponent.  After he just squeaked out a controversial decision victory over Daniel Ponce De Leon in March 2011, he has fought fighters on a much lower caliber, despite gaining a title and increased exposure.  Though Broner has looked impressive in those fights, the time has come for him to step in the ring with a fighter who presents a more credible threat.
Guerrero has not lost a fight since 2005 and has been collecting several sanctioning body belts along the way.  However, despite moving up through multiple weight classes, many of his victories have come against fighters whom he either matched up stylistically very well against or were simply past their prime.
In breaking down a Broner-Guerrero fight, there are a few important elements to examine that give us a clue to what could occur in the ring.  First, Broner has much faster hands and has shown a propensity to hurt his opponents with a straight right hand.  Guerrero, as a southpaw, has shown a typical propensity to being hit by the straight right hand.
Second, the last fight Guerrero had real problems in was a bout in 2006 against Orlando Salido.  Guerrero originally ost that fight on the scorecards but the result was later changed to a no-decision following a failed post fight drug test by Salido.  But looking at the fight itself, Salido, a pressure fighter but much slower than Broner, was effective working his way in and lacing Guerrero with the straight right hand.  If a slower Salido had that much success against Guerrero imagine what the faster and harder punching Broner would do.
Of course, Guerrero has just had his debut at 147 lbs, while Broner still has not officially even fought as a lightweight. That would suggest a size and strength advantage in favor of The Ghost, as well as a logistical hurdle for actually putting this fight together. However, I believe that if this fight were made, Broner would score a huge stoppage win over Guerrero.  If I am managing Guerrero, I would steer my fighter far away from this matchup, and if I was in Broner's camp, I would do all I could to make this fight happen by the end of the year.
Antonio DeMarco vs. John Molina
Several weeks ago, HBO announced an excellent bout between Brandon Rios and Mike Alvarado on October 13th.  Instantly. many boxing columnists and fans believed this will be a Fight of the Year type bout.  Though I am excited to see this fight, I feel the bout between Antonio DeMarco and John Molina on September 8th will provide more fireworks than Rios-Alvarado.
Stylistically the DeMarco-Molina bout sets up to be a very entertaining fight.  Molina is an aggressive fighter who will try to work his way in on DeMarco and attempt to throw combinations on the inside.  DeMarco, a southpaw, will try to keep the fight on the outside but has shown a habit of fighting back instinctively when he gets hit.  Both fighters have also shown a severe lack of defensive skills.  So look for the leather to be flying in this one with high connect percentages for however long the fight lasts.
As for a prediction, I like DeMarco to prevail in the end.  I believe he is a bit more technically sound than Molina and has the sharper punches.  He has shown tremendous heart and determination in the past as well.  In his loss to the late Edwin Valero, he kept fighting hard while taking a tremendous beating.  And he was able to come back and stop Jorge Linares while behind on the cards in the 11th rounds and having absorbed quite a lot of punishment in the prior rounds.  It's this determination and slightly better skill that will allow DeMarco to prevail in this surefire Fight of the Year candidate against Molina.
Carlos Molina Returns
Carlos Molina won a workmanlike ten round unanimous decision victory over Damian Frias this past Friday night.  The fight was a typical one for Molina of late where he used angles, movement and differing techniques to confuse his opponent while piling up points.  The victory by Molina solidified his status as a top ten Junior Middleweight and should help lead Molina to a bigger fight in the next year.
On the air during the telecast, Teddy Atlas stated that he believed that Molina would defeat Saul Alvarez.  I could not agree more with Atlas' prediction.  Molina a technically sound fighter, and remains one of the most underrated fighters in the sport today.  He is brilliant at differing his technique during a course of a fight to throw off his opponent's rhythm and keeping his opponents off balance.
In a fight with Alvarez, I see Molina successfully using his boxing skills to pile up points and outwork the stronger Alvarez.  Molina has also shown he is very good defensively and Alvarez will have a hard time hitting him clean.  Unfortunately, I think Alvarez's people are well aware of this and the fight will never come off.