The Big Drama Show continued on Saturday night as Gennady Golovkin survived a spirited effort from Sergiy Derevyanchenko to become world middleweight champion once again in the main event at Madison Square Garden.
He did so by winning a close unanimous decision over his Ukrainian rival by scores of 114-113, 115-112 and 115-112 to reclaim the vacant IBF and IBO middleweight belts.
After the fight, an elated yet relieved Golovkin reflected on the twelve rounds of hell he endured to realize his goal of capturing another title.
"I told you, he's a very tough guy. This is huge experience for me. Right now, I understand I need more… I feel this was not an easy fight for me. This was a tough fight."
He couldn't have been more correct in lieu of how their back-and-forth contest unfolded.
Golovkin (40-1-1, 35 KOs) started off faster than usual by knocking Derevyanchenko (13-2, 10 KOs) down in the first round with a beautiful combination that began with an uppercut followed by a clipping shot to the top of the head.
Golovkin then opened up a nasty cut above Sergiy's right eye in the next frame with a looping hard right hook.
However, Derevyanchenko confronted this adversity by increasing his work rate to out hustle Triple G over the next three rounds. The Ukrainian began to apply tremendous pressure by not giving the former unified champion enough room to maneuver.
Golovkin did not respond well to being backed up as he looked out of sorts when not the aggressor, and took some heavy breaths during Derevyanchenko's relentless attacks.
Derevyanchenko did excellent work by pounding the body with straights and hooks to help tilt the tide of the fight in his favour. Golovkin clearly had the heavier hands but Derevyanchenko was faster, busier and consistently beating him to the punch.
During this time, the earlier ruling on the cut Sergiy had suffered was determined to be caused by an accidental head-butt, not a punch so the fight would go to the scorecards if stopped. Fortunately, the ring doctor took a look at the cut and determined that Derevyanchenko could continue.
Derevyanchenko's body work really started to pay off when he visibly hurt the Kazakh with a hard shot in the closing ten seconds of the fifth round.
Rounds six through eight presented an even ebb and flow with both men landing terrific punches. Golovkin found his second wind over the next half of the fight by using the jab more effectively and landing more hooks to the body. Derevyanchenko still appeared to be doing the better overall work but was no longer in complete control of the bout.
Sergiy continued to execute his plan of backing up Golovkin in the championship rounds and came awfully close to dropping him in round eleven through a haze of body and head combinations.
Both fighters looked completely gassed by the twelfth round although Golovkin was probably in worse condition considering the hellacious beating he had taken throughout the bout.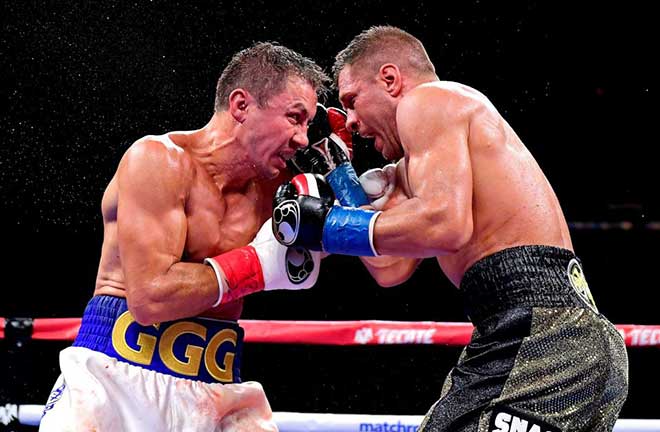 The end was anti-climactic as the fighters did more holding than punching until the final bell because they were completely exhausted.
There were certainly a few close rounds that could have gone either way but Golovkin's win was not a robbery although Team Derevyanchenko probably found the verdict difficult to accept.
Derevyanchenko proved last night that he has the chin, stamina, skills and heart to compete at the highest level in the stacked middleweight division.
The powerhouse who once seemed invincible looked very beatable in this fight as Derevyanchenko landed the most punches on him than any opponent to date.
If GGG still wants a third fight with Alvarez, he'll have to be much sharper than tonight but I think his entire team realises that they have plenty of work to do.