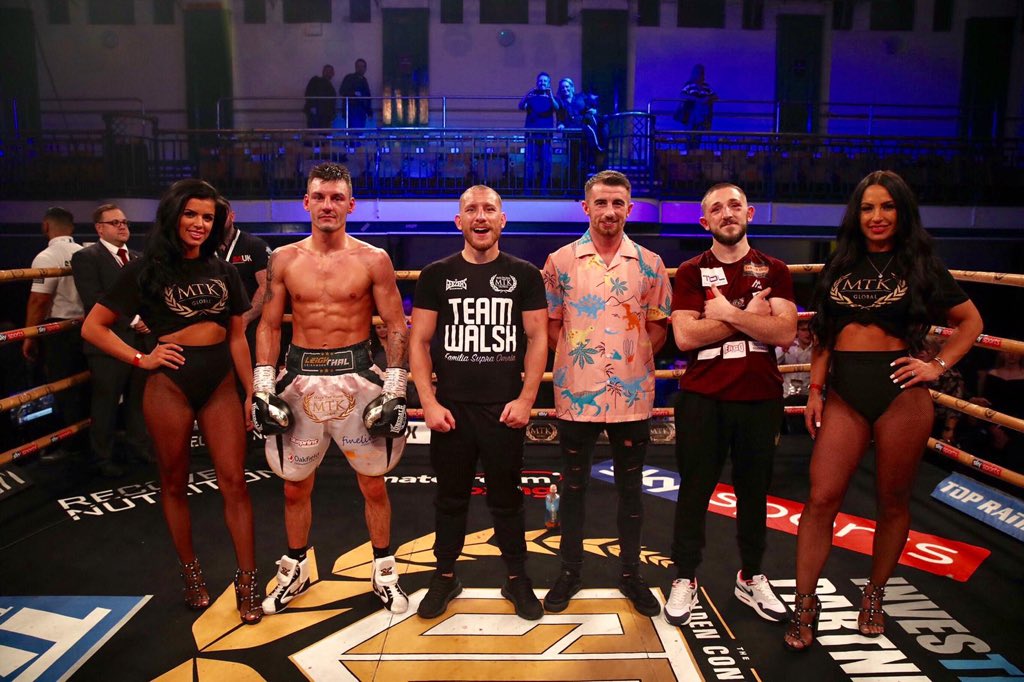 The MTK Golden Contract tournament promised much, and delivered in spades at the York Hall in Bethnal Green on Friday night. It was the turn of the Featherweights first up, and four quarter final matches took place.
First up, Tyrone McCullagh opened proceedings with a convincing points win against late notice replacement, Razaq Najib, who gave a decent account of himself with such short preparation time. Mexican Carlos Araujo was scheduled to be the original opponent for Derryman McCullagh but pulled out of the competition.
McCullagh entered the famous Arena to the strains of the Undertones' Teenage Kicks, and was flanked by good friend, and fellow pro, Tyrone McKenna, dressed in a panda in front of a vociferous Irish following. McKenna would have an altercation with his Super Lightweight Golden Contract rival, O'Hara Davies at ringside later on in the evening.
Najib started brightly, and took the fight to his more experienced opponent, but McCullagh began to control the action, especially off the back foot. Sheffield based Najib was cut in round three, but kept coming forward to his credit. McCullagh would take over in the middle rounds, using good movement and coming in and out of range to rack up the points. With Najib tiring going into the tenth, McCullagh picked off his foe with sharp shots, leaving Najob with cuts over both eyes and a damaged nose as the fight went to the cards.
Scores of 98-92, 97-93 and 96-94 saw McCullagh the first man through to the semi finals.
McCullagh was joined in the last four by James "Jazza" Dickens, who put in a controlled performance to outscore Spaniard, Carlos Ramos.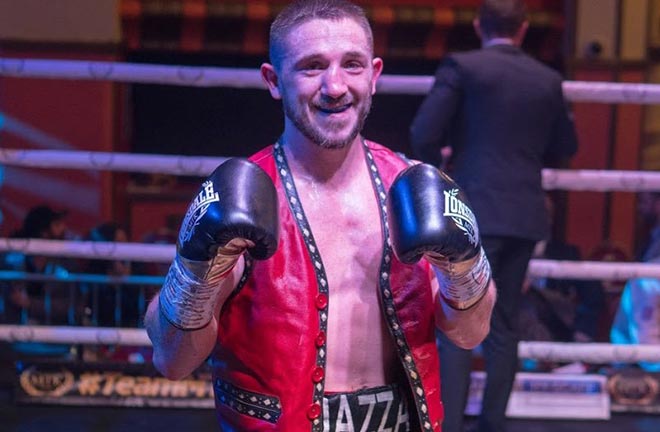 Ramos started well, reddening Dickens' face with hard shots in the first couple of rounds. The Liverpudlian responded in kind though, whipping in eye-catching shots of his own, before dropping Ramos in the fourth with a quick combination.
From there on in it was all Dickens, with Ramos struggling to land anything of note, and being forced into retreat for most of the middle rounds.
In the end, Dickens settled for 97-92 (Twice) and 99-91 verdicts to take his place in the next round. The best two contests were saved for last, and British Featherweight Champion, Ryan Walsh, bagged himself a £5000 bonus with a ninth round stoppage of tough Cuban, Hairon Socarras.
Socarras switched stances in the early going, and targeted Walsh's body in rounds one and two. Walsh began to find his feet from there, connecting with classy combinations in the second, before rocking his undefeated opponent in the third, forcing Socarras to hold.A big right hook buzzed Socarras in round five, as Walsh began to turn the screw, but the pair traded in body shots in round six, with the contest remaining competitive.
The breakthrough came in the penultimate round, with Walsh stunning Socarras with a right hand before firing a multiple punch salvo to force referee, Bob Williams' intervention. Commonwealth Champion, Leigh Wood, competed the semi final line up with an impressive, yet controversial stoppage of previously unbeaten David Oliver Joyce in the same round as Walsh.
Nottingham's Wood also claimed a £5000 bonus of his own as a result of his inside schedule win.
It was a gripping clash, with Wood punch picking early on, and Joyce commanding centre ring. A straight left hand decked Joyce in the second to check his momentum, but he was safely back on his feet. Joyce responded to this by letting his hands go in round three, and this was nearly to his cost as he was met with a thunderous uppercut from Wood while also being countered by the Gedling man.
Joyce continued to come forward, but Wood was landing with cleaner work, while the Irishman was only landing sporadically. The action was frantic in rounds five and six, with both men trading blows. Wood landed another telling blow in the seventh, dropping the Mullingar Olympian right at the end of the session.
Again Joyce came out swinging in the eighth, but "Leigh-thal" was always one step ahead of him. The two traded big right hands in the ninth, with Wood's much the meatier, and a heavy right staggered Joyce enough to force the referee's hand to stop the fight, as Wood completed the semi final line up.