Undefeated Ghislain "Mani" Maduma (14-0, 9 KOs) is climbing the ratings ladder and positioning himself for a future world title shot. An impressive victory Friday night, September 6, against Mexican invader Fermin De Los Santos (24-13-2, 16 KOs) should get him even closer to his dream.
The 28-year-old Maduma, who lives in Montreal, is world rated at No. 10 by the International Boxing Federation (IBF), as well as No. 13 by the WBC. He remains somewhat of a mystery to U.S. boxing fans, however, because all of his professional fights, thus far, have been held in his native Canada.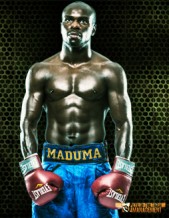 "This fight is very important for me," Maduma explained. "I want to show the world that I'm a world-class fighter. This fight is a big step for me to prove I'm one of the best lightweights in the world, and get a world title shot next year.
"I'm a very exciting fighter whose skills should also be showcased on television in the United States. I have power, good technique, and I'm smart in the ring. You never know what's going to happen because I do everything well."
WBC No. 11-rated De Los Santos, the reigning WBC Caribbean Boxing Federation (CABOFE) lightweight champion, has never been stopped and he's unbeaten in his last 15 fights (14-0-1, 9 KOs).
"He is undefeated the last five years," Maduma noted. "His record may not be the best but he's a tough Mexican who has fought in International competition."
Maduma's promoter/manager, EOTTM president Camille Estephan,believes he has a world champion in the making, saying, "Thee big reason for his success is his strength-and-conditioning work at the highly-respected Olympic Gym. All of our fighters train there, as well as many top amateur athletes from other sports, who are on the National Canadian Team. Ghislain has broken every single training record, pound-for-pound, ever recorded there. He is a phenomenal all-around athlete who only eats, sleeps and trains; then does that all over again. He almost made the Canadian Olympic Team but kept losing to the eventual Olympian at the end of fights because he didn't have time to train. Ghislain worked full-time and has three children, his conditioning wasn't there.
"We found a diamond in the rough. Ghislain has continued improving since he turned pro. Skills development that take other fighters 30 days to improve take him only two days. We believe he is one of the best lightweights in the world right now. He's also very responsible and highly intelligent. I can't say enough about this guy. Ghislain Maduma is one of the best prospects in the world, certainly in the lightweight division."
The stacked undercard will showcase two of the most exciting young fighters in Canada, super lightweight Baha Laham (12-0-1, 5 KOs) and light heavyweight Andy Gardiner (8-0. 4 KOs), fighting in separate eight-round bouts, respectively, against Mario Perez (14-5-2, 9 KOs) and Michal Nieroda (11-4, 6 KOs). Super middleweight Schiller Hyppolite (7-1, 4 KOs) is also scheduled to fight in an eight-round match versus Jaudiel Zepeda (12-8-1, 9 KOs).
Another future star fighting on the Sept. 6 card is unbeaten welterweight prospect Mian Hussain (6-0, 4 KOs), who takes on former European champion Giuseppe Lauri (53-13, 31 KOs), the veteran Italian who fights out of Hungary, in a six-round match. Estephan calls Hussain the best young prospect in Canada, if not all of North America.
"Mian is so gifted," Estephan commented. "Some guys like him can just throw punches with dynamite in both hands. He has very heavy hands and is extremely explosive. He has unbelievable talent. Mian is one of three brothers, the youngest 14, who were all Golden Gloves champions. He has a tall order in only his seventh pro fight against Lauri, who is 53-13 and was the European champion. We're looking forward to seeing what Mian can do against and experienced opponent like Lauri."
Also scheduled to fight on the undercard is lightweight Ibrahim "Fireman" Kamal (8-0, 6 KOs) vs. Sebastien Benito (10-7, 3 KOs) in a six-rounder, as well as (four-round bouts) lightweights Michael "L'Unique" Gadbois (9-0-1 (3 KOs) vs. Edgar Torres (5-6, 4 KOs) and Chris Plaitis (4-0) vs. Saul Mendeza (9-7, 2 KOs), light heavyweight Pascal Villeneuve (2-0, 1 KO) vs. Eric Roy (6-3, 3 KOs), heavyweight Zachary Bunce (1-0, 1 KO) vs. Craig Hudson (0-2), and pro-debut cruiserweight Samer Barakat vs. Denis Martin (2-3, 2 KO).
Maduma vs. De Los Santos, presented by Eye Of The Tiger Management (EOTTM), headlines the sixth installment of EOTTM's Fight Club Series, at Hilton Casino Lac Leamy Casino Hotel in Gatineau, Quebec, Canada.
In addition to fighting for Maduma's WBC Americas title, the 12-round Maduma vs. De Los Santos main event will also be contested for the vacant North American Boxing Federation championship.