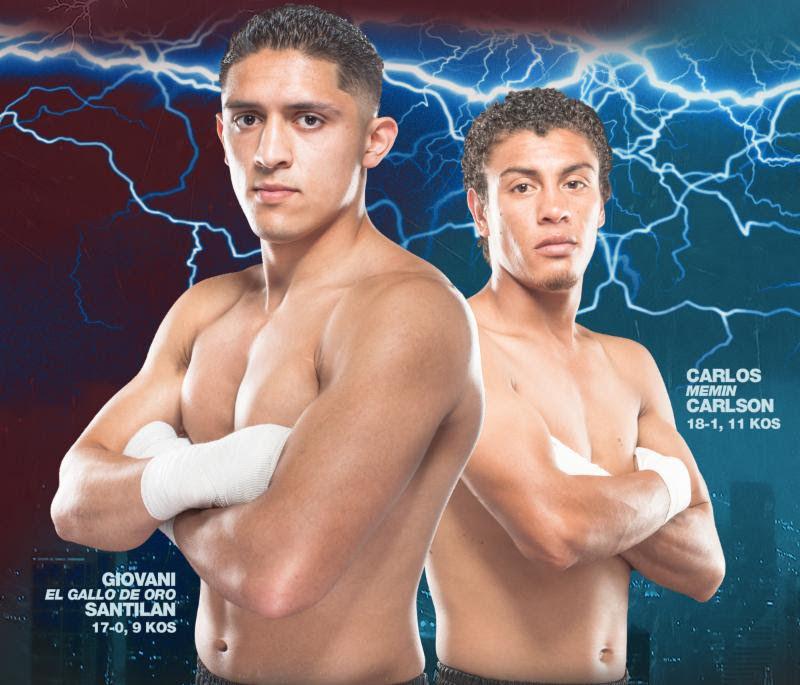 Giovani Santillan (17-0, 9 KOs), one of the junior welterweight divisions brightest young talents, highlights Thompson Boxing Promotions' "New Blood" event on Friday, Nov. 20, against Mexican brawler Rosbel Montoya (18-7, 16 KOs).
The 8-round main event originates from the Doubletree Hotel in Ontario, Calif.
Santillan, the former NABF Junior 140-pound champion, is looking to cap off an impressive two- year stretch that saw him record six victories. His latest win was a tightly contested majority decision against Ernesto Ruiz in September. One week from Friday, the 23-year-old southpaw plans on earning his third win of the year.
"It's never my intention to overlook any opponent; that's how you get beat," said the San Diego native. "Rosbel will come out ready to fight, and I need to be prepared for whatever he brings."
Santillan possesses the skill and poise of a much more experienced fighter. His defense continually improves, and he's managed to add new dimensions to an already potent offensive attack.
"The goal is always to get better," said Santillan, who first appeared on a Thompson Boxing card three years ago. "We are always in the gym working on new combinations, new ways to win."
In the co-feature, bragging rights are on the line when top bantamweight contender Carlos Carlson (19-1, 12 KOs) of Tijuana, Mex. meets hometown rival Jose Estrella (14-8, 10 KOs) in a bout scheduled for 8-rounds.
Carlson, who is ranked No. 9 by the WBC, is inching closer – with each win – to a much deserved world title shot. The heavy-handed slugger hasn't lost since dropping his professional debut more than four years ago. Additionally, he's held the WBC Latino title on two separate occasions.
"I've put in an excellent training camp and I'm motivated to continue my winning streak," said the 25-year-old Carlson. "Estella is a strong puncher that likes to take risks. I know exactly how to fight boxers like him."
For Estella, facing a top striker like Carlson is business as usual. His last three fights have come against undefeated upstarts like Jamie Conlan of Northern Ireland, Diego De La Hoya of Mexico, and Colombian Oscar Negrete. While winless in those affairs, Estrella is no doubt hungry for a win.
"I always show up ready to fight," Estrella said. "It would be a costly mistake to underestimate me."
Additionally on "New Blood," lightweight Manuel Mendez (7-1-1, 4 KOs) of Indio, Calif. brings his exciting brand of boxing to Jose Luis Ramirez (7-2-1, 4 KOs) of Tijuana, Mex. in a fight scheduled for 6-rounds.
Undefeated featherweight Danny Franco (11-0-3, 8 KOs) of Riverside, Calif. faces Pedro Lopez (6-2, 2 KOs) of San Diego (6-rounds).
Intriguing middleweight prospect Rudy Puga (5-0, 5 KOs) of Salinas, Calif. aims to keep his unbeaten record in tack when he takes on Juan Carlos Rojas (8-13-1, 7 KOs) of Saltillo, Mex. (6-rounds).
Also on the undercard, undefeated super flyweight prospect Ricardo Espinoza (4-0, 4 KOs) of Tijuana, Mex. battles Francisco Lapizco (7-2, 2 KOs) of Ciudad Obregon, Mex. (4-rounds)
Opening the bout is super bantamweight Jhordy Ramirez of Santa Maria, Calif. Ramirez will be making his professional debut against Julio Iwani Rodriguez (0-1) of Ensenada, Mex. (4-rounds).