Oscar De La Hoya is garnering plenty of attention right now for his "open letter" to Floyd Mayweather published on Playboy.com, and set to appear in the magazine's December issue. He's sharing a popular sentiment among certain boxing fans, and one which particularly resonates with newfound boxing "fans" who couldn't have picked out Manny Pacquiao from a police lineup until a few months ago. But it's a complete and utter farce, and the fact that the entire sporting public is gobbling it up is part hilarious and part fantastical.
There are two points to consider here, and they both include the all important phrase "consider the source."
1) Consider the source — and look at Oscar's career:
De La Hoya is the fighter who threw away his biggest match, against Felix Trinidad, by running around the ring for the final rounds of the fight. He went on to lose a disputed decision, which would have never been up for debate had he not literally not abandoned any semblance of fighting to get on his bike and waste away the closing minutes.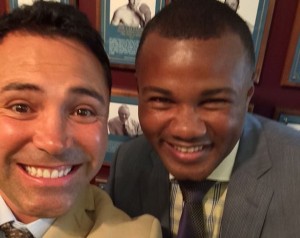 De La Hoya is also the fighter who writhed around in faux-anguish on the canvas, opting out of his fight against Bernard Hopkins before naming him a partner in Golden Boy Promotions soon after.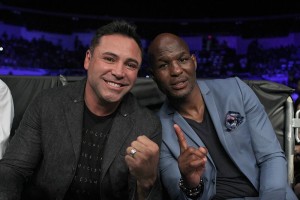 Not to mention the one who sold us on his fight with Floyd Mayweather to begin with, never rematched Pernell Whitaker, beat up on an aged Julio Cesar Chavez, not understandably once, but bewilderingly twice, to boost his own name, and then "won" a middleweight "championship" with an awful decision over Felix Sturm to set up that fraudulent fight with Hopkins.
2) Consider the source — and look at who Oscar promotes:
We're on record at least as far back as May as saying that Mayweather would return to go for 50-0 against the winner of the as of that time still unofficially planned fight between Canelo Alvarez and Miguel Cotto. With that fight approaching next weekend, Oscar's open letter to Playboy is nothing but the opening salvo in the promotional push for Mayweather vs. Canelo II.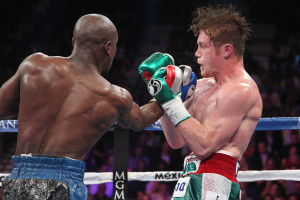 Say nothing of the fact that Mayweather already wiped the floor with the future of De La Hoya's company, this time, we'll hear about how Canelo is truly in his prime, and Mayweather is washed up, and he's staying retired to avoid a rematch he knows he'll lose. This is all a script that has been written for quite some time.
Think what you will about Mayweather, his fighting style and his historical legacy. I'm not even bothering to argue with the content of the letter.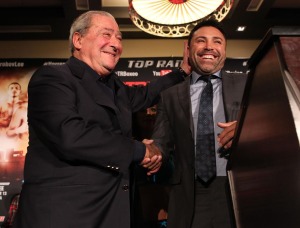 But consider the freakin' source here, folks. As Oscar's former promoter turned enemy turned BFF Bob Arum likes to say, "Yesterday I was lying, today I'm telling the truth."