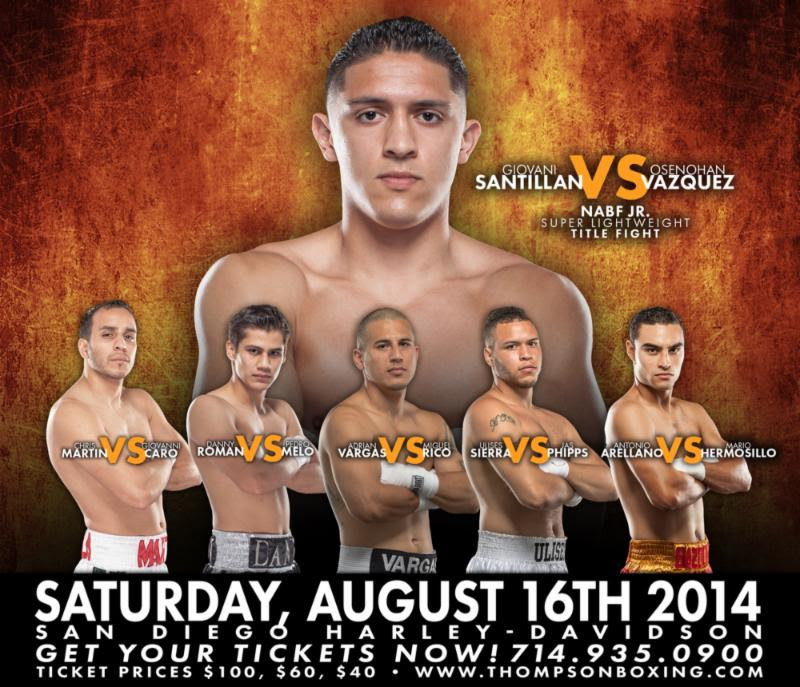 Thompson Boxing Promotions promotes its first show in San Diego with an action-packed "Path to Glory SD Style" line up highlighted by two of the city's most popular boxers: undefeated junior welterweight prospect Giovani Santillan (13-0, 7 KOs) and the veteran super bantamweight Christopher Martin (27-3-3, 9 KOs). The seven-bout card takes place on Saturday, Aug. 16, from the Harley Davidson San Diego.
"We are thrilled to promote our first show in San Diego at the iconic Harley Davidson dealership," said Ken Thompson, president of Thompson Boxing Promotions. "We have a loaded card featuring some of the brightest talents in Southern California, and fans will get to experience all the action from one of the most unique backdrops in all of the sport."
Santillan, starring in his first main event and fifth straight 8-round fight, will battle Osenohan Vazquez (7-1-1, 2 KOs) of Jersey City, NJ for the vacant Junior Welterweight NABF Jr. Title. Santillan, who many consider one of the areas top prospects, will fight for the first time in front of his hometown fans.
"To headline my first fight as a Thompson Boxing fighter and have it in my own backyard is extremely special," said the 22-year-old southpaw. "Then you add the NABF title to the mix and this easily becomes the most challenging fight of my career. I'll have a big crowd supporting me and I plan on putting on a tremendous performance."
Martin, who was scheduled to face Efrain Esquivias in July before Esquivias pulled out due to a fight week illness, is fighting the well experienced and hard-punching Giovanni Caro (24-14-4, 19 KOs) of Mexico City in the 8-round co-main event. Martin is coming off a rare defeat at the hands of Enrique Quevedo in October and has redemption on his mind.
"I'm coming into this fight in incredible shape," Martin said. "I was ready to fight in July and now it's all about fine tuning and staying sharp. My friends and family were excited to find out that I'll be fighting in San Diego for the first time in four years."
In other action, super bantamweight Danny Roman (9-2-1, 4 KOs) of Los Angeles will bring his brand of exciting boxing to Pedro Melo (9-5-2, 2 KOs) of Mexico in an 8-round fight.
Roman has built a reputation as a high-intensity boxer capable of throwing punches from all angles. He has a relentless motor that wears down and frustrates opponents. How Melo handles the pressure in the early rounds will determine whether or not he can stay in the fight.
San Diego junior welterweight Adrian Vargas (9-0-1, 6 KOs) will put his undefeated record on the line against Miguel Rico (2-6-1) of Mexico. The fight is scheduled for 4-rounds.
Undefeated super bantamweight Heriberto Delgado (11-0, 6 KOs), one of Tijuana's most popular and exciting prospects, is facing a veteran boxer-puncher in Jonathan Alcantara (6-11-2, 1 KO) in a fight scheduled for 6-rounds.
After racking up seven wins last year, most of which came against boxers making their pro debut, Delgado undoubtedly finds himself in the toughest fight of his young career. Alcantara is no slouch and will surely test the younger and less experienced Delgado.
San Diego Middleweight Ulises Sierra (6-0-1, 4 KOs) will look to add to his win streak against Jas Phipps (4-5, 1 KO) of Los Angeles in a 4-round fight.
Opening the event is another San Diego-native, lightweight Antonio Arellano (6-2-1, 2 KOs). He fights Mario Hermosillo (12-13-4, 2 KOs) of Mexico City in a bout scheduled for 4-rounds.