Manny Pacquiao's next fight was confirmed about two weeks ago, with the Filipino legend heading back to Macau, China on November 22nd to take on the unbeaten Chris Algieri. For Algieri, it's a huge opportunity as he parlays his recent surprising upset victory over Ruslan Provodnikov into the chance of a lifetime.
For Pacquiao though, and for fight fans, Pacquiao vs. Algieri leaves something to be desired. That's especially the case when you contrast the fight with what should have happened in its place, a 5th match between Pacquiao and arch-rival Juan Manuel Marquez.
The plan had been for Pacquiao to face, and presumably defeat, Timothy Bradley, and for Marquez to take on, and presumably take out, Mike Alvarado. When Marquez vs. Alvarado became official, what was at first indirectly assumed then became officially confirmed — the winners of those two fights, once again presuming Pacquiao and Marquez, would be facing each other next. Pacquiao and Marquez would indeed win their respective fights. So what happened to Pacquiao vs. Marquez V?
While the failure to put this fight together is a disappointment, it's also not entirely surprising. Our own Rich Thomas projected Marquez would be left on the outside looking in before Pacquiao-Bradley II and Marquez-Alvarado even took place. After Pacquiao got his revenge win over Bradley, Thomas took it one step further and predicted that Bob Arum and Co. would make an entirely unacceptable offer to Marquez, and then simply move in another direction, essentially saying "hey, we tried, right?"
Pacquiao's Side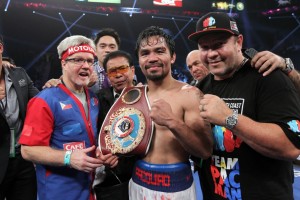 Depending on who you'd prefer to believe, that's exactly what happened. Marquez had an in-person meeting with Arum in New York in June, and a Marquez-Pacquiao V clash apparently emerged dead in the water. Prior to that meeting, all of the talk had been that the fight wouldn't take place.
Why not? Well, Pacquiao's team kept on saying that Marquez was pricing himself out. It's hard to imagine that a deal couldn't be arranged between the two strictly in terms of finances though, considering that a bout like that would generate revenue many times over what Pacquiao-Algieri could be expected to do under the best circumstances. Even given Algieri's small sliver of the pie, there would be more money to go around for everyone with Pacquiao-Marquez V.
The "pricing himself out" angle doesn't really make any sense, then. Pacquiao's team decided to opt for some misdirection along with that, furthering speculation that Marquez was uninterested in facing Pacquiao and being subject to strict drug testing requirements, and that was why he was pricing himself out to begin with.
Or maybe there was simply never a real offer on the table.
Marquez's Side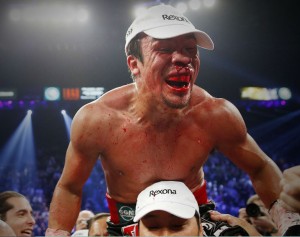 Meanwhile, Marquez trainer Nacho Beristain was quite adamant publicly in his stance that he didn't want a 5th Pacquiao-Marquez fight. He made assorted comments, including stating his belief that a 5th fight would be too physically demanding for both men, and unnecessary. Considering he backed Marquez's brother Rafa in an entirely unnecessary 4th fight of an even more brutal series against Israel Vazquez, that seems unlikely to be his true motivation.
Instead, his true motivator is likely preserving the picture-perfect knockout win for Marquez as the conclusion of the series. After years spent in Pacquiao's shadow, and coming up short on the scorecards on multiple occasions, he and Marquez could close that book forever, knowing they had a beautifully decisive and climactic finish to things regardless of the overall win-loss record of the series.
Not to mention that he and Marquez are now finally basking in their control. After chasing Pacquiao down endlessly for a 3rd fight, they must now be relishing saying, "thanks, but no thanks… we'll leave it just how it is."
Clearly they're happy enough to end matters there, but that's also a classic negotiating tactic. If Arum then came back to the table with a more favorable and realistic deal, then I'd be hard-pressed to think that Pacquiao and Beristain would continue singing that tune.
Bottom Line
In other words, Pacquiao's team never really wanted to make the fight, and Marquez's side is more than happy to oblige them in turn and say shove off.