Guerrero: It's not like I turned you (Malignaggi) down because you're a hard puncher!
One of the hot daily buzz items in boxing today was the developing war of words between Robert Guerrero and Paulie Malignaggi. Guerrero has been calling out everyone in his search for a big fight, from Floyd Mayweather to Victor Ortiz. Well, now, as a Golden Boy fighter, it seems like he'll be getting on the May 5th undercard beneath Mayweather-Cotto.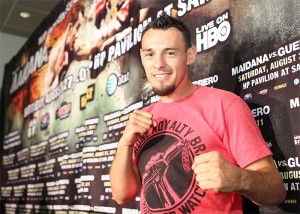 Paulie Malignaggi took the chance to call out Guerrero and challenge him to a fight. Guerrero and his team declined, at which point, The Magic Man began unleashing some taunts and trash talk.
As seems to be all the rage these days, much of this played out quickly over Twitter, with other fighters and fans chiming in with their own thoughts.
Following that, The Ghost came out with his own press release, and here's what he had to say:
"Look at the facts Paulie, why did I turn you down? You're a tremendous puncher? NO! You make for fan friendly fights? NO! You are a HBO or Showtime approved fighter? NO! Fact is, Eric Gomez at Golden Boy said you wouldn't be approved to fight on a date that isn't a Pay Per View.  So if our promoter can convince a network that you are worthy enough to be on your own date, then let's rumble. I got a Shark Tank waiting."
Very interesting, and with all the talk the Guerrero vs. Malignaggi fight may actually end up becoming quite intriguing. We'll keep you posted on the continued developments with this one.