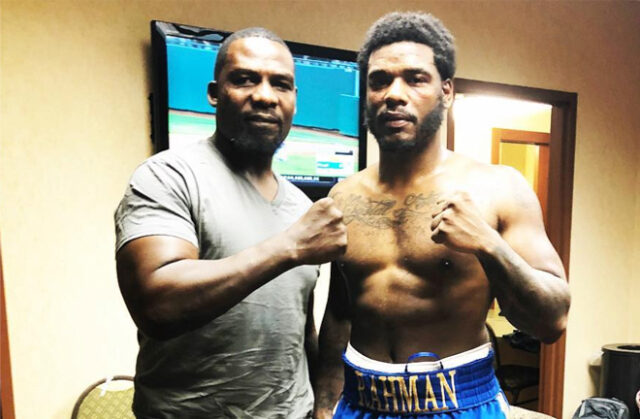 "My dad set the bar, so now I want to do what he did and set the bar even higher than him and then my brother's coming after me, he's going to set it higher than me… We're trying to be the greatest family to leave a legacy in boxing."
There's always an increased element of intrigue and excitement when the son of a legendary fighter enters the sport. A chance to reminisce on the past glory days and a sentimental feeling of hope that one day they can emulate their fathers' achievements.
Ricky Hatton's son Campbell drew huge attention when he signed a promotional contract with Eddie Hearn's Matchroom Boxing in December.
Ricky's popularity soared during his heyday and reached its peak when he drew thousands of Brits to Las Vegas for his clashes with Floyd Mayweather Jr and Manny Pacquaio. Hasim Rahman Jr is in a similar situation.
Rahman Jr's father and namesake, Hasim Rahman fought all the greats of his era and beyond including Evander Holyfield, James Toney, David Tua, Wladimir Klitschko and most famously of all, Lennox Lewis, who he stunned to become unified Heavyweight world champion in Brakpan, South Africa in 2001, before losing the immediate rematch at Mandalay Bay, Las Vegas later that year
That first fight alone has etched the now retired former two-time title holder into the history books and is a legacy his son Hasim, who is also a Heavyweight, is now chasing for himself and two younger brothers, Sharif, also a professional and his other younger brother, who is in the amateurs.
View this post on Instagram
"I climbed to the world title with my dad," Rahman Jr told proboxing-fans.com.
"I sat down and watched him put in the work, I sat down and watched him leave the family for months at a time. He really put in the work he drove to DC every morning for years to go train.
"We lived in Baltimore, he's driving to DC every morning to go train, that's like an hour, hour-and-a-half drive sometimes. But, he did it, he put in the work and he had his faith right, he still has his faith right.
"He laid the blueprint for us to get world titles, so I don't think there's anything stopping me or my brothers but us, so when we go full fledge with this which we are, it's going to be real, real hard to stop us."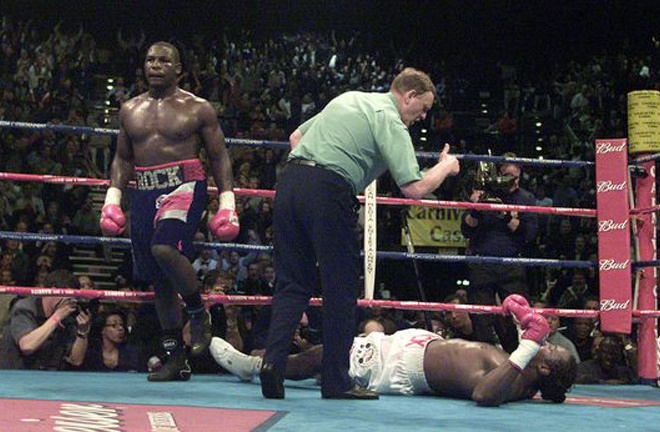 The 29-year-old is unbeaten in his professional career so far, trained by his father and Dewey Cooper when he's in Las Vegas and by Calvin Ford, also coach of Gervonta Davis, when he's in Baltimore.
Hasim by his own admission was almost born into the sport, seeing his dad in the peak of his career gravitated him to it further. When 'The Rock' was stopped in his 12th and final round by Oleg Maskaev, losing his WBC Heavyweight title, the reality him home for Rahman Jr, who from that point took his craft seriously.
"I've been in the boxing ring since I could walk, it's been a lifelong journey.
"A boxing ring is somewhere I don't feel uncomfortable. There were always flaws in my football game, in my basketball game, on the baseball field. I'm pretty athletic, so growing up I tried everything, but no where felt as at home as boxing, I feel home, I know the ring, I'm not uncomfortable.
"When I decided to start and take it seriously was the night he lost to Oleg Maskaev and that one, it home, because we relocated to Las Vegas and he lost the Heavyweight championship of the world in the 12th round by knockout to a guy he already had a knockout loss to.
"I already loved boxing then, but I felt like it was my duty after that. I was 14-years-old and shortly after that fight I was linked up with Emanuel Steward and that's how this whole journey began and here we are today 10-0, still climbing.
"People don't understand that WBC world Heavyweight title was downstairs in my living room, that's home. That's like somebody taking something out of your house and leaving with it. No, that belt belongs home."
Rahman Jr (10-0, 5 KOs) was surrounded by talent at a young age, with his dad presenting him with the opportunity to head out to Detroit to train in the world-renowned, Kronk Gym alongside the late, great Emanuel Steward and former Middleweight world champion, Andy Lee.
Hasim credits the Kronk team for teaching him the sport and enabling him to develop a versatile style.
"He [Emanuel] taught me how to box.
"My dad would never let me box until I decided to leave all the other sports alone and just take boxing serious and that was my last football season, my freshman year at high school and I never went back and did anything too serious to put my body at risk, I've always been boxing ever since.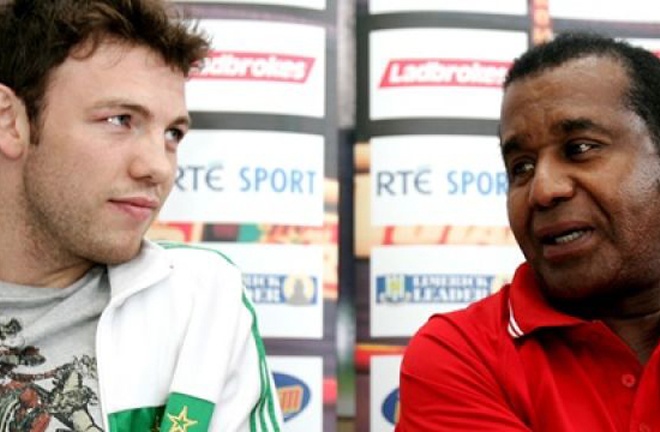 "When I was in Detroit, I was training with Emanuel during the day and then during the night he would put me with Andy Lee and I would be going through stuff with Andy Lee and that's how Emanuel had me learn both ways.
"So I can fight Orthodox and I can fight Southpaw. Everything he would teach me during the day would be Orthodox, then I would go at night and work on Southpaw things with Andy Lee.
"Andy Lee is now a great coach, he's a great teacher, I still use the things he taught me as a 14-year-old kid, I still use them to this day.
"I still hear the things replaying in my mind when I'm in fights, that was my groundwork, so I have to attribute a whole lot to Andy Lee and Emanuel Steward, they really did their thing when they taught me the foundations of boxing."
View this post on Instagram
Rahman Jr says he can fight at Heavyweight, Cruiserweight and the newly-formed WBC division, Bridgerweight and has welcomed all comers, as he looks to really establish himself amongst the top names and hopes to be given the opportunity to prove his talent on TV this year.
His dad was known for being a resilient warrior and having an aggressive and fearless style, which saw 41 of his 50 victories end inside distance.
For Hasim, he takes inspiration from his dad, as well as from his dad's former rival, Lennox Lewis whom he names as his all-time favourite fighter, outside of his bloodline.
"My dad really wanted to come and bring it to you and knock you out.
"I'm more like I want to beat it out of you. I want to beat you up for a minute and then knock you out.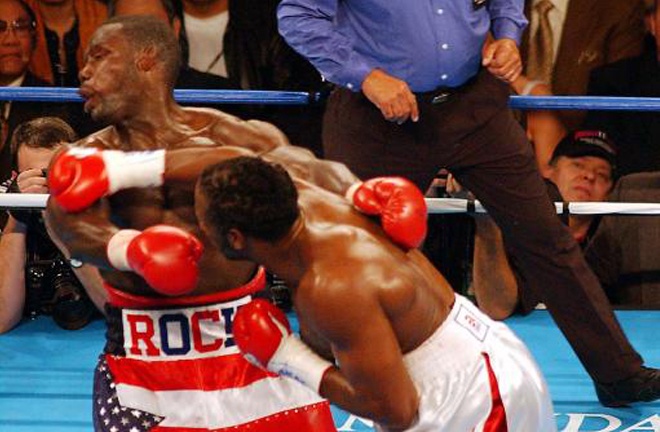 "It's a thing to have that one punch power and we'll see if I have it when I land that one punch, but it's another thing to beat somebody up for an extended amount of time and I have to give props to Lennox Lewis for that, because he liked to beat his opponents up and then knock them out, so that is my favourite Heavyweight ever.
"He's a big reason why I do what I do today and I want to beat people up like my Dad and like Lennox did.
"When they see me, they'll see me fighting from the orthodox stance, they'll see me fighting from the southpaw stance, they'll see me with a great jab, they'll see me with great everything all around the board, I'm ready to rock and roll."
Just like other sons of great fighters of yesteryear, Hasim has the challenge of stepping out of his father's shadow and forming a reputation of his own.
Chris Eubank Jr and Conor Benn had the weight of expectation firmly on their shoulders after turning professional, in light of their fathers' achievements, who shared one of the most compelling British rivalries ever seen.
The pair are both well on the path to doing that and arguably have done, with Eubank Jr a former IBO world champion and interim world champion, whilst Benn has made impressive progress in recent years.
The American contender faces similar pressures, but inspired by his dad's perseverance and toughness, Rahman Jr has a steely determination to achieve those heights and even eclipse his dad's accomplishments.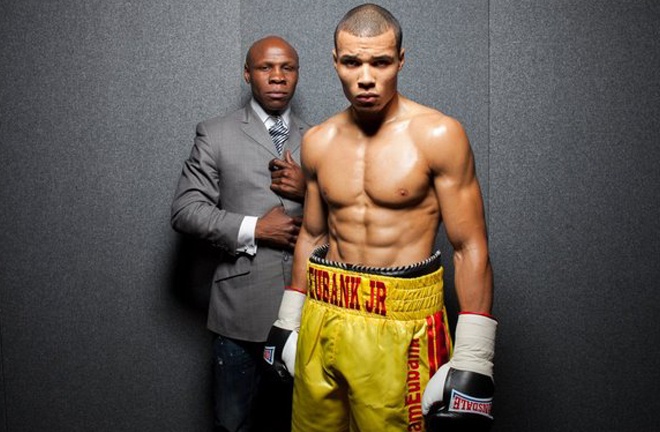 "Like Chris Eubank Jr, there's nothing you can really do about it, when your dad's a legend, your dad's a legend.
"So, how about you work as hard as you can to make people say, 'that's your son, oh that's your son.'
"You've got to make them not even think about that and say 'wow, you are great' and then when they see your dad, say 'oh, that's your son, oh that's his father.'
"You've got to make them flip it, so that people are amazed that, that's your son.
"You've got to overcome what they've done and be greater and that's the thing about our family, everyone sets the bar and the next one should be greater and go over the bar.
"I'm pretty much willing to put it all on the line, that's what my father taught me.
View this post on Instagram
"I saw my father ringside, I'm sitting next to Jay Z and I'm looking up watching my father fight with a gargoyle on his head, he was fighting Evander Holyfield and he was head-butting, but I seen him fight through that.
"So, you've got to understand I come from him. There's nothing that's going to make me quit.
"You're going to have to absolutely separate me from my consciousness in order to get me to stop, or you're going to have to outbox me and good luck with that, because i want to prove to be one of the best defensive big men to put on gloves, defence wins championships."
Rahman Jr has a fighter's mentality instilled in him by his father and with his drive and resolve, coupled with the education he'd had in settings such as the Kronk Gym, there appears no reason why the Heavyweight prospect can't go onto continue and perhaps surpass his father's accomplishments.
Watch the full interview with Hasim Rahman Jr below: