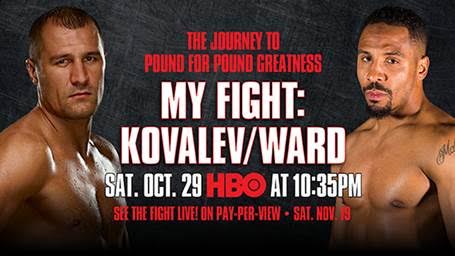 HBO Sports, widely acclaimed for its innovative boxing programming, takes an in-depth look at the most intriguing matchup of 2016, the highly anticipated Nov. 19 pay-per-view showdown between undefeated light heavyweight stars Sergey Kovalev and Andre Ward, when HBO Boxing's My Fight: Kovalev vs. Ward debuts this Saturday, October 29th, at 10:35pm Eastern.
Unified light heavyweight champ Sergey "Krusher" Kovalev (30-0-1, 26 KOs), who resides and trains in southern California, puts his crown and undefeated record on the line against formidable challenger Andre "S.O.G." Ward (30-0, 15 KOs) of Oakland, Cal., a former Olympic gold medalist who cleaned out the 168-pound division and has set his sights on top prize in the 175-pound division.
For My Fight Kovalev vs. Ward, the cameras travel with Kovalev to his hometown in Chelyabinsk, Russia and connect with Ward in the Bay Area to chronicle the long journey both men took to reach the elite level of professional boxing.
On Saturday, Nov. 19, Kovalev and Ward meet at T-Mobile Arena in Las Vegas, in a telecast to be produced and distributed live by HBO Pay-Per-View.