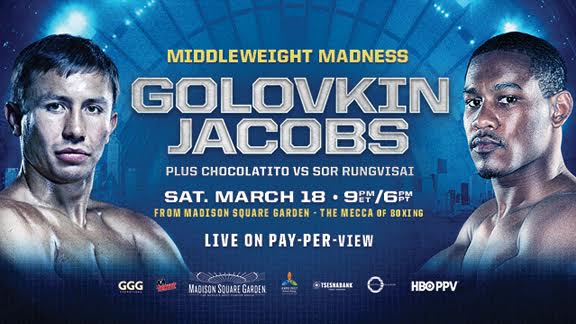 Leading up to the highly anticipated stacked world championship boxing card highlighted by the appearance of Gennady Golovkin, Danny Jacobs, "Chocolatito" Gonzalez and Carlos Cuadras on Saturday, March 18 and presented live by HBO Pay-Per-View® – HBO Sports will present the exclusive replay of three hard-hitting all-action encounters that highlight the remarkable skill and power of these ring warriors.
On Friday, March 10 at 12:05 a.m. (ET/PT) and Saturday, March 11 at 10:50 a.m. (ET/PT), HBO2 will replay back-to-back Golovkin vs. Brook 2016, Jacobs vs. Smith 2009 and "Chocolatito" Gonzalez vs. Cuadras 2016. This past September at The O2 in London, Gennady Golovkin traveled to Kell Brook's hometown and extended his consecutive knockout streak to 23 in a row with a fifth round stoppage against the then undefeated prize fighter. On August 22, 2009, top prospect Daniel Jacobs displayed incredible resilience and ring skills against Ishe Smith with a 10-round unanimous decision victory. Last September in a Fight-of-the-Year candidate, consensus #1 pound for pound fighter in the world, "Chocolatito" Gonzalez claimed a title in a fourth weight class against Carlos Cuadras in what was the toughest and roughest encounter of his career.
All three fights will also be available 24 hours a day on HBO NOW, HBO On Demand®, HBO GO® subscribers and affiliate portals beginning Monday, March 6.
Golovkin vs. Jacobs, "Chocolatito" Gonzalez vs. Rungvisai and Cuadras vs. Carmona takes place Saturday, March 18 from at the Mecca of Boxing, Madison Square Garden and will be produced and distributed live by HBO Pay-Per-View beginning at 9:00 p.m. ET/ 6:00 p.m. PT.