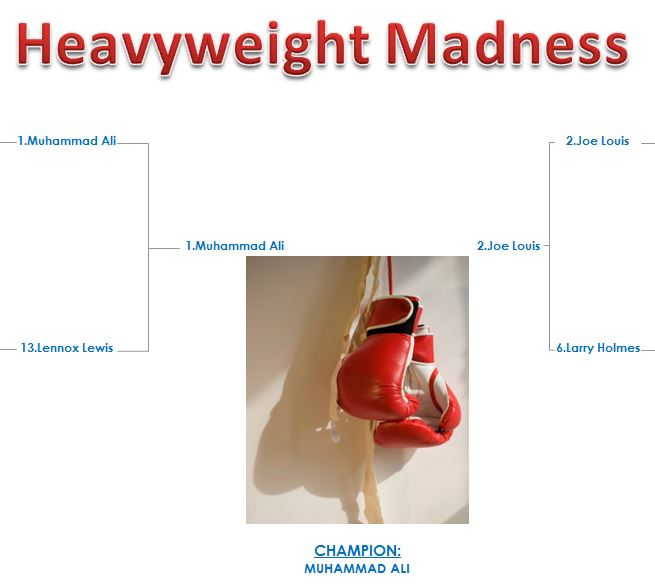 The Heavyweight Madness Tournament has crowned a champion! Below, you will see accounts of each Final Four match and the Championship Final. The semifinals feature two exciting matches, Muhammad Ali vs. Lennox Lewis, and Joe Louis vs. Larry Holmes. Which men will advance and square off in the championship? Take a look below to see how it all plays out.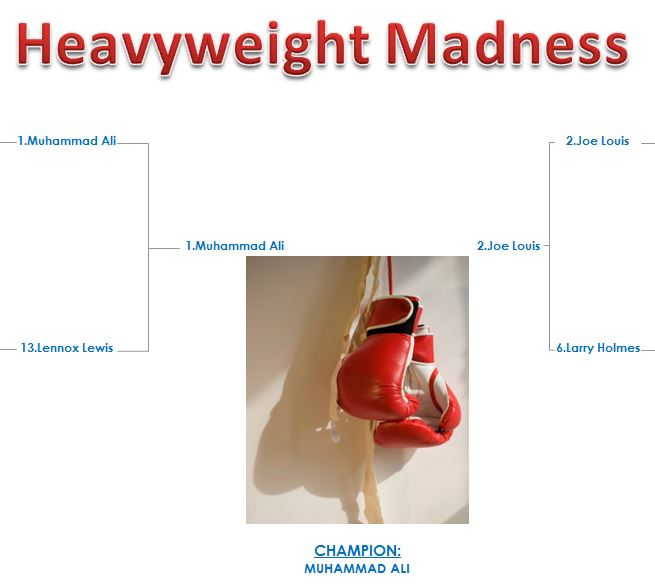 Previous Rounds:
1. Muhammad Ali vs. 13. Lennox Lewis
Lennox Lewis as a Final Four participant in this tournament is somewhat surprising. Can he keep his somewhat improbable run going by taking out the one man whom many feel is the all-time greatest? The fight begins:
The first round sees Ali whipping and slipping. Ali is whipping his jab into Lewis, almost at will, and slipping most of Lewis's jabs. Lewis doesn't catch Ali with anything of note and Ali has established himself as the faster man early.
The next few rounds are more of the same. Lewis seems to be a bit confused and taken back by Ali's speed and movement and he is not letting his hands go much. Ali meanwhile is racking up points and having a pretty easy go through round 5.
In round six, Ali steps in a bit more and starts to land more damaging blows to the body and head of Lewis. Lewis still can't seem to find Ali with anything flush. Rounds 7 and 8 continue to see Ali scoring against a surprisingly inactive Lewis.
In rounds 9 and 10, Lewis seems to realize he is way behind on points and begins pressing and throwing more now. His activity level has picked up significantly and he is starting to reach Ali with combos as Ali backs against the ropes. However, Lennox is eating some solid counter-punching work by Ali as he shifts his game plan to a more aggressive and active approach
Round 11 has begun with Ali scoring a big flurry in the middle of the ring. Lewis, clearly behind on points, has no choice now but to open up. In doing so, Ali is slipping shots and ripping counter hooks. At about 2 minutes of the round, Ali rips a right hook flush to Lewis' jaw and drops Lennox to the canvas.
Lewis answers the referees count at 8 and Ali rushes in to finish him off with a masterful flurry which causes an exhausted and beaten Lewis to take a knee as the referee jumps in to stop the action.
Ali by TKO in the 11th
2. Joe Louis vs. 6. Larry Holmes
Joe Louis is regarded by many to be the greatest Heavyweight of all-time. For one night though, is his best better than Larry Holmes' best? The fight begins:
Both masterful ring generals open the fight cautiously. They occasionally trade jabs and wait for the other to come in. Neither obliges and the first few rounds are lackluster, though it has been Louis who has landed a majority of the few solid power shots. As we get to round 4, Louis is countering Holmes' legendary jab well and is starting to get in close and work Holmes' body.
Rounds 5 and 6 see Louis eating more of Holmes' jabs as he has shifted his plan to fighting more inside and working Holmes' body more regularly. In round 7, Louis scores the first real big shot of the night as he pounds a right hand counter in against Holmes' head which staggers Holmes as he moves back.
Louis follows Holmes' retreat and rips more thudding body shots as Holmes covers up. Rounds 8 and 9 have Holmes re-establishing his jab, but not scoring on much else. Louis' right eye, which has been to target of most of Holmes jabs, is significantly swollen. In round 10, Louis becomes more active with his own jab and is beating Holmes to the punch which appears to be throwing Larry off as Louis is regaining control of the pace of the fight and is dictating the action.
Round 11 again has Louis masterfully getting inside of Larry's offense and landing big body shots as well as combos inside. The final rounds have Holmes abandoning the jab and opting to trade with Louis. Holmes appears weary and his punches are wide. Louis himself appears to have lost a bit of the "pop" off of his punches and despite accurate counter-punching, is unable to get Holmes off of his feet. The fight goes to the judges:
Louis by Unanimous Decision
Championship: Muhammad Ali vs. Joe Louis
That brings us to our final match. Muhammad Ali versus Joe Louis. No real surprise that these two have made it to the championship bout. A legendary matchup of the two men most agree are the top 2 Heavyweights of all-time. The fight begins:
Ali starts fast as he is dancing and prancing and sticking and moving. Louis is stalking, looking for counter-punching opportunities in the first couple of rounds but doesn't find many versus the dashing Ali. Ali is in and out and popping jabs followed by uppercuts and hooks. Louis hasn't been able to mount much of an offensive through the first 4 or 5 rounds.
As we hit round 6 Ali is ahead and begins to taunt and talk a bit more. Louis is unfazed and stoic in his approach to these rounds. We notice that Ali's lateral movement has eased a bit and Louis is now pressing more and scoring a bit during 6 and 7. Rounds 7 and 8 go by with Louis becoming more active and more effective as Ali's movement has diminished a bit. After getting pounded by body shots in several flurries in prior rounds, Ali is back on his toes and popping his jab with effectiveness in round 9.
Louis is recoiled in rounds 10 and 11, seemingly waiting to catch Ali in a counterpunch trap but Ali keeps scoring at distance and his movement is making it tough again for Joe to catch him. In round 12, Ali fires a quick combo early but Louis counters with a huge right hook that sends Ali stumbling across the ring, Louis peruses as Ali hurriedly retreats.
Ali grabs and holds as Joe tries to land another big shot. Most of Louis' blows are missing or hitting Ali on the arms and shoulders as Ali runs and grabs for the remainder of the round. In rounds 13 and 14, Louis is still coming forward and Ali is retreating more now, yet doing some effective counterpunching of his own. Louis is getting work done to the body of Ali as he is able to get him on the ropes for brief exchanges.
In round 15, Ali starts unexpectedly by meeting Louis in the center of the ring and scoring on a jab/uppercut combo which stuns Louis. Ali darts back out but Louis is clearly dazed. Ali is jabbing and Louis is crowding as the round draws on. In the final minute, both men trade big shots.
Ali scoring with a jab/hook combo which is countered by a Louis right hook which sends Ali again retreating back into the ropes. Louis pins him there and swings savagely looking for the knockout. Ali grabs and holds to slow Louis' attack. The fighters are separated and Louis comes at Ali again. Ali stands his ground and the two trade big blows in a frenzied exchange in the center of the ring as the crowd roars their approval and the final bell rings. The fight goes to the judges:
Ali by Majority Decision
There you have it. After 15 grueling contests among these ring legends, Muhammad Ali is finally crowned the winner of our Heavyweight Madness Tournament. All of these men have legendary ring resumes and have dominated their weight class for stretches of their brilliant careers. All are iconic and fabled champions deserving of their status as all-time greats.
As such, hearty and spirited discussions regarding outcomes and opinions of these great, fantasy matchups are inevitable, expected and enjoyed. We hope you have enjoyed our version of this simulated event!